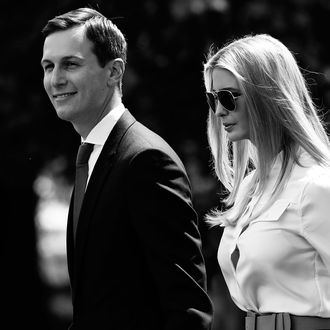 Jared Kushner and Ivanka Trump.
Photo: Yuri Gripas/Bloomberg via Getty Images
Just in time for his expected departure, White House chief of staff John Kelly may have finally found an answer to his burning question, What the hell do Jared and Ivanka do all day? Turns out, the couple's "freelancing" includes going on early-morning dates to their favorite posh cycling studio, where they can shamelessly sweat out their legitimately toxic toxins together in the dark.
According to the Washington Post, the pair's preferred studio is Flywheel, which bills itself as "challenging" and "intensely fun" and "not like anyone else." (Weird personification, but okay!) At the start of each class, the rooms go dark — "the better to pedal unobserved," per the report. An unlimited studio membership in D.C., which enables you to "build your most limitless body," costs more than $250 a month.
And when the couple is forced to reenter the bright real world where everyone can see their faces, they scurry back to their safe abode, where they can't get their feelings hurt by those damn, uncivil hecklers that won't leave the Trump administration alone. At the end of one recent session, Kushner was spotted tugging his baseball hat over his face and jumping into a chauffeur-driven SUV, which quickly whisked him away.
One can assume he was rushing home to make himself a protein smoothie, or rather demand one be made for him — that corrupt little boy does know good food.