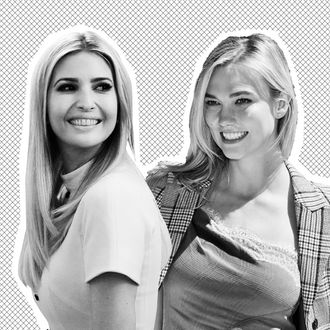 Ivanka Trump and Karlie Kloss.
Photo: Getty Images
Ivanka Trump is feeling so excited — "blessed," even — about her sister, and no, not Tiffany. She's getting a brand-new one!
After six years of dating, Josh Kushner — brother of the Trump administration's official "little boy" Jared Kushner — proposed to Karlie Kloss, his longtime model girlfriend, with a massive rock this past Tuesday. Naturally, Kloss took to Instagram to make the exciting announcement, writing, "I can't wait for forever together."
But not only will Kloss become the wife of Kushner — she'll also become the sister-in-law of Ivanka, who is personally so excited (!!!) to have Kloss as a "sister."
"So, so happy for you and Josh!" Ivanka Trump wrote under Kloss's engagement Instagram. "I feel blessed to have you as a sister (!!!) Karlie and look forward to the decades of happy memories we will create together as a family!"
Kloss has yet to "like" or respond to the comment.