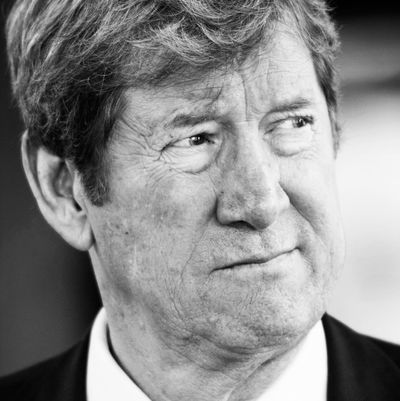 Representative Jason Lewis loves (the word) sluts.
Photo: Bill Clark/CQ-Roll Call,Inc.
Minnesota congressman Jason Lewis yearns for simpler times — times before the terrible scourges of "single women" and "women voters," when you could toss around the word "slut" as casually as you might reference the "cultural suicide" of the white race. You know, literally all of U.S. history.
Lewis touched on all of these topics on his syndicated radio program, The Jason Lewis Show, which ran from 2009 to 2014. In 2016, he was elected to represent Minnesota's Second Congressional District, even after his opponents recirculated a transcript from one of his radio shows in which he calls women "ignorant", and says:
You've got a vast majority of young single women who couldn't explain to you what GDP means. You know what they care about? They care about abortion. They care about abortion and gay marriage. They care about The View. They are nonthinking.
Today, CNN shared another clip from Lewis's show, from 2012, in which he bemoans the fact that you can't call ladies "sluts" anymore, even if they do something super slutty like demand affordable contraception.
When asked about conservative radio host Rush Limbaugh calling Georgetown Law student Sandra Fluke a "slut" and a "prostitute" (Fluke testified in front of congress that year about women being forced to pay as much as $1,000 a year out of pocket for birth control, and argued that even religious institutions like Georgetown should cover contraceptives), Lewis responded:
Well, the thing is, can we call anybody a slut? This is what begs the question. Take this woman out of it, take Rush out of it for a moment. Does a woman now have the right to behave — and I know there's a double standard between the way men chase women and running and running around — you know, I'm not going to get there, but you know what I'm talking about. But it used to be that women were held to a little bit of a higher standard. We required modesty from women. Now, are we beyond those days where a woman can behave as a slut, but you can't call her a slut?
Luckily for Lewis, he's obviously never been held to a higher standard, so he was allowed to continue on and say:
But have we really got to the point where you can't refer to Madonna as a slut without being sued? I mean, Madonna has had a series of lovers, as have many in Hollywood. Now in the old days, what did we call this? Madonna dresses up in these sorts of prostitute-like outfits on stage, and she goes there and she sings and she shows half of her body. What did we call those people? 30 years ago? 40 years ago? 50 years ago? You can't do that today, it's too politically incorrect?
Wow. Is this guy obsessed with sluts or what? In response to a CNN query about his statement, Lewis's spokesperson Becky Alery said, "This has all been litigated before, and as Congressman Lewis has said time and time again, it was his job to be provocative while on the radio."
Ignorant, View-obsessed, nonthinking sluts or not, young single women women can vote. Specifically, they will be able to vote in November, and decide whether to reelect Lewis to congress — where he has voted to ban abortions after 20 weeks, and, ironically, to establish a National Day of Civility — or boot him out. And in August, ignorant, View-obsessed, nonthinking sluts will be able to vote in the Democratic primary to choose whether Angie Craig or Jeff Erdmann will go up against Lewis.