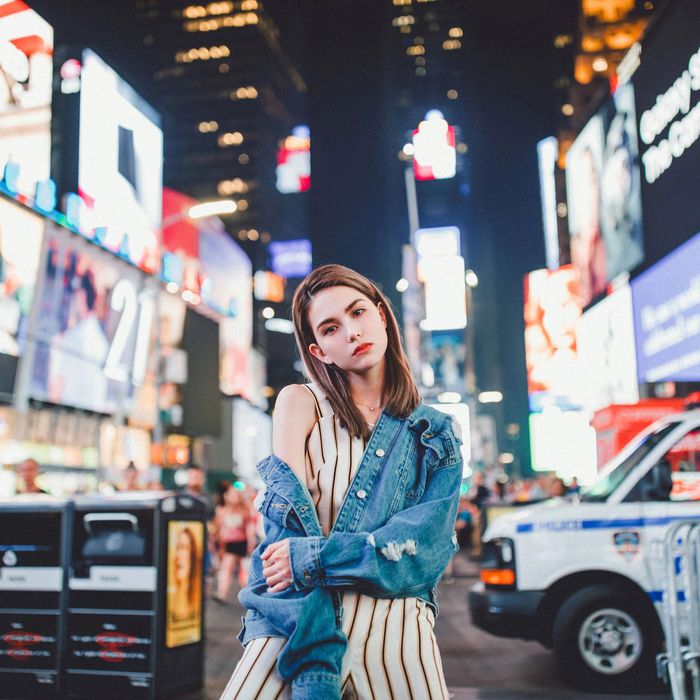 Hannah Quinlivan poses in Jendes outside in Times Square.
Photo: Courtesy of Jendes
Chances you haven't heard of Hannah Quinlivan yet, but you're about to see a lot of her. The 24-year-old Australian-Taiwanese actress is well known in her native Taiwan, where she's starred in both television and movie roles since she was 18. She's also a paparazzi magnet due to her personal life — Quinlivan is married to pop singer Jay Chou and they have two young children together. Now, Quinlivan's making her American film debut as Xia, the villain in the Rock's latest movie Skyscraper. Also on her résumé? Designing the brand Jendes, which debuted globally last week.
The name Jendes comes from a hybrid of Jen, which is Quinlivan's Chinese name, and the word design. While the project has been in works for over a year, fashion was always a big part of Quinlivan's life. One of her first jobs was in retail as a teen, and she frequently appears on the red carpet in elaborate outfits — most recently in a spectacular glittering Prada gown for the Skyscraper premier.
A more casual line, Jendes is indicative of how Quinlivan dresses during her downtime, "I never want to look like I'm trying too hard," she says. "It's inspired by my travels. There's a lot of denim but also softer, more feminine dresses that showcase all sides of my personal style."
Quinlivan's carefree, youthful approach to dressing translates to three distinctive themes within the collection. There are oversized jean jackets and casual logo tees with the requisite millennial-friendly avocados emblazoned across the chest made for casual weekends. Dressier, work-friendly options like trench coats and striped dresses can go from work to evening affairs. And then there's Quinlivan's aforementioned softer side, as seen through feminine dresses embellished with pearls or layers of ruffles. Prices start at $50 and top out at $300 — it's deliberately affordable for her legions of fans. Scroll ahead to see a few select pieces and shop the entire collection here.