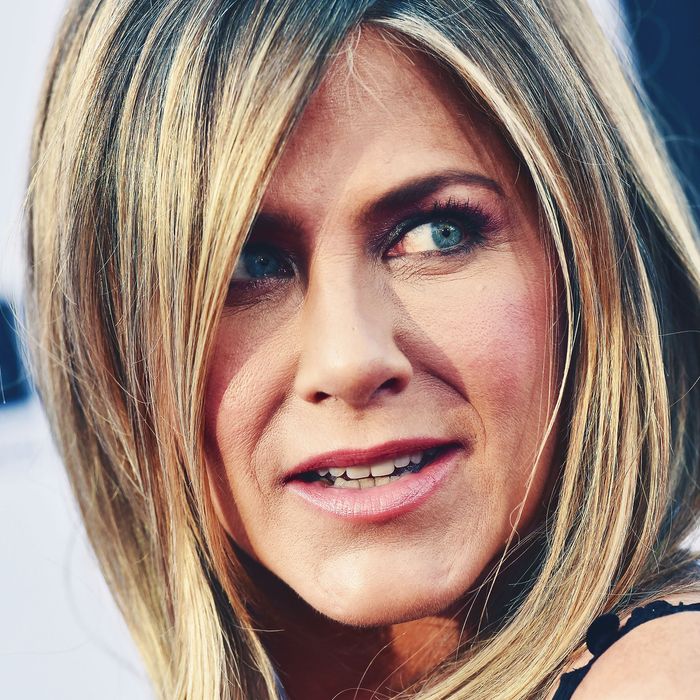 Jennifer Aniston.
Photo: Axelle/Bauer-Griffin/FilmMagic
If you were wondering whether it bothers Jennifer Aniston to see her edgy New York City–loving ex-husband Justin Theroux spending time with his "friend" Emma Stone, well, you really needn't worry. In fact, Jen is reportedly dating two guys at the moment.
According to Us Weekly, two unnamed men are currently trying to "woo" Jen. A "confidant" of the actress told the tabloid, "It's very hush-hush," before specifying that none of the men are actors or her usual type (which I guess is actors), and then providing other identifiable context clues. Per Us Weekly:
The first contender, says another source, is a tech titan introduced to Aniston by a close friend. "He recently split from his wife and is trying to win over Jen," confides the source. 
Tech "titan." Recently split. Hmm.
And what about the second guy?
The second, says another confidant, "is an industry creative she met when they started working on a project together several months ago."
"Industry creative." Met. "Project together." Hmmm again.
In my opinion this describes pretty much every man in Los Angeles, other than actors or man-bunned artists, so it's hard to narrow that down. But I do know that Jen is currently working on a project with Reese Witherspoon for Apple TV, which is something that involves tech and industry creatives, so perhaps that is the link between one or both of the burgeoning romances? Who knows!
Either way, I'm just glad Jen is getting back out there, not tied down yet, and most importantly, doing fine.