Standing next to a lifesize cardboard cutout of himself, Jonah Hill was a real one.
"I'm freaking out right now," whispered James Harris, who co-founded Jonah Hill Day with Lawrence Schlossman and Jeremy Robinson-Leon in September 2017 during New York Fashion Week. When the Failing Upwards podcast hosts inaugurated their event last year, they never thought the 34-year-old actor would actually show up. But there he was when I walked into Kinfolk 90 in Williamsburg on Saturday afternoon, taking selfies with his surprised, very sweaty superfans.
Because of a disparity between the event's flyers, Hill actually showed up an hour early to his own appreciation day — something he describes as his "worst nightmare" realized. But he had no regrets. "I didn't go last year because I was too shy," Hill told me. "But I was thinking about it and I was like, These kids are so awesome for doing this. I realized it was coming from a place of love. I needed to get over my social anxiety."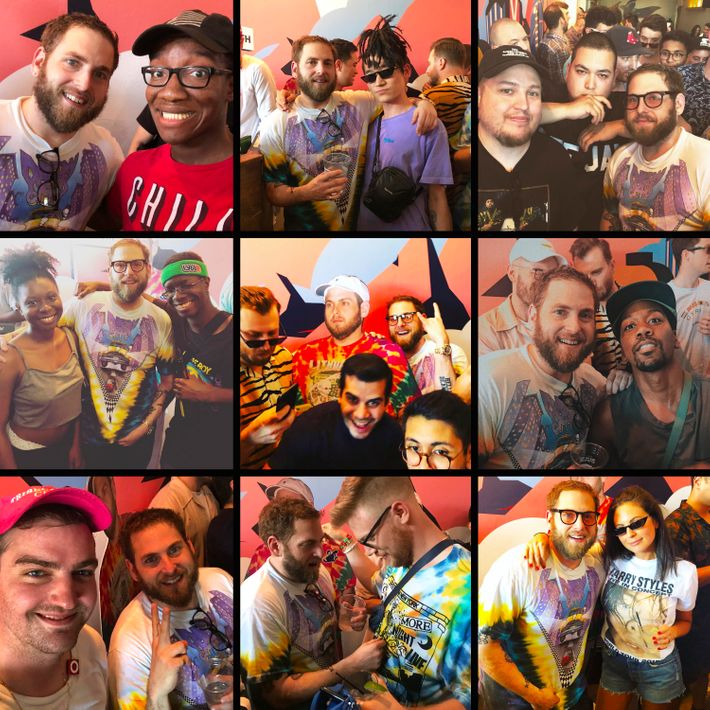 It's hard to pinpoint the exact moment Hill went from "that dude from Superbad" to someone deserving of his own appreciation day. He was nominated for a few Oscars somewhere in the middle of that process, and will make his directorial debut with Mid-90s, a coming-of-age film out this fall. But he's pretty sure this event in particular had to do with his style.
"This is a fashion thing, right?" Hill asked Harris and Schlossman, who stood grinning on either side of him as though they'd just pulled him out of the ocean. Hill and his cardboard likeness both wore tie-dye Grateful Dead T-shirts — a trend he thinks he deserves at least some credit for bringing back.
"It's his fashion sense, it's his body of work, and he's a good guy," said Schlossman of Hill's merits. "He fucking came! That's all you need to know."
"He's the ideal we all aspire to be," echoed Harris. "He's just doing his shit and dressing well while doing it."
In August of 2016, former GQ.com style writer Jake Woolf took early notice of Hill's fashion sense in an article titled "Why You Shouldn't Sleep on Jonah Hill's Style." Woolf charted Hill's proclivity for skate brands like Palace, Know Wave, Bianca Chandon, Richardson Hardware, and Fucking Awesome — all of which proved to Woolf that Hill had his "finger on the pulse of what cool kids are wearing in cities across the country."
Meanwhile on social media, Hill was becoming both a style icon and a meme. A day before Woolf's post went up, the popular menswear-focused Twitter account, @Four_Pins — which is, not coincidentally, run by Schlossman — started a "Jonah Hill 'fit watch," documenting paparazzi photos of the actor. In the first one, Hill wears a trendy bomber jacket and Palace flat-brimmed hat. But as time goes on, it becomes clear that Hill's appeal is not based solely on the brands he wears, but how similar he looks to everyone else on the streets of Soho.
Last spring, the Instagram account @JonahFits was created to chronicle all of Hill's "fit pics," following in the footsteps of accounts like @ShiasOutfits. In a recent post, Hill walks around Soho wearing a familiar tie-dye Grateful Dead T-shirt, gym shorts, and Gosha Rubchinskiy x Adidas sneakers. (He often repeats his favorite pieces.) In the photo are also his fashion-obsessed friends Justin Theroux and Harmony Korine, who have been collectively deemed the "Streetwear Pussy Posse" by Garage magazine.
Like LaBeouf, Hill presents as someone who takes pleasure in dressing himself, as opposed to using a stylist. But unlike LaBeouf, Hill has clearly done his fashion homework, and is tuned in to emerging brands and trends. He has all the "right" pieces — the Raf Simons Ozweego sneakers, the printed Prada shirt, the classic camel coat. But then he'll go and wear them with AirPod headphones, baggy gym shorts, and a Hello, Dolly! sweatshirt. Or he'll slap a cool skate sticker on his Swell water bottle.
In this way, Hill embodies the relatable gray area between trying to keep up and just trying make it through another day. He isn't perfect. But as Harris, Schlossman, and their "Fail Gang" will tell you, it isn't about how hard you try, but how effortlessly you fail.
This attitude extends to Hill's lifestyle as well. He can often be seen smoking a cigarette on his way to and from the gym, or while drinking a healthy smoothie. He toes the line between someone "living their best life," and someone you should maybe be a little sympathetic toward, depending on your sense of humor. It's often hard to know whether Hill's fans are mocking him or putting him on a pedestal — or both. The flyer for Jonah Hill Day certainly wasn't flattering, but perhaps that's the point.
It's no secret that Hill's weight has fluctuated over the years, and that he only became a "style icon" when he got in shape. But for many of the young men who related to Hill's awkward sidekick character in Superbad, he now represents the "glo-up" — a kind of self-improvement project that lets you still be yourself. In other words, you can cuff your Palace sweatpants to your knees and still hang out with the Olsen twins.
Thankfully, Hill is in a place where he can see the positive side of people's obsession with him, particularly his appearance. In March of this year, he joined Instagram, and his posts are just as fun and uncurated as his style. (This one with Kris Jenner at the Met Gala is a favorite.)
When pressed, Hill said he doesn't really think about what he's going to wear when he gets up in the morning, but he does like to support brands he feels a connection with. Palace founder Lev Tanju, for example, is someone Hill calls a "close friend." He jokes that his aesthetic can be described simply as: "Support the Homies."
So maybe Jonah Hill Day really was a self-fulfilling prophecy: support the homies, and they will come.