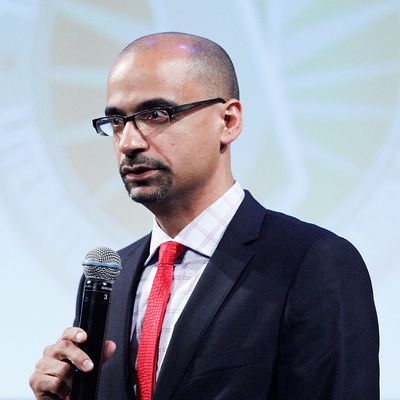 Junot Díaz
Photo: John Lamparski/Getty Images
In a new interview with the Boston Globe, author Junot Díaz describes being "distressed," "confused," and "panicked" when allegations of sexual misconduct and verbal abuse emerged against him this spring. "I was, like, 'Yo, this doesn't sound like anything that's in my life, anything that's me,'" says The Brief Wondrous Life of Oscar Wao writer.
In early May, writer Zinzi Clemmons publicly confronted Díaz at a literary festival in Sydney, Australia, accusing him of forcibly kissing her and contacting her against her will. In the aftermath of the incident, author Alisa Valdes recounted her relationship with Díaz in a blog post, alleging his behavior was "misogynistic, demeaning and cruel." Authors Carmen Maria Machado and Monica Byrne echoed similar sentiments, calling Díaz out for separate instances of alleged verbal bullying.
In his new interview, Díaz pushes back on claims that the behavior of the male characters in his books reflects his personal conduct or attitudes toward women. "There is a line between being a bad boyfriend and having a lot of regret, and predatory behavior," he says. Most significantly, the author disavows his initial response to the allegations, in which he took "responsibility for" his past. Says Díaz of that statement now, "I've written a lot of crap in my life. One does when one's a writer. But, definitely, that statement is the worst thing I've written, the worst thing I've put my name to. Boy, I wish I'd had the presence of mind to rewrite the damn thing."
The author then goes on to deny Clemmons's account of his alleged harassment. "I did not kiss anyone. I did not forcibly kiss Zinzi Clemmons. I did not kiss Zinzi Clemmons," he says. "It didn't happen." When contacted by the Globe, Clemmons stood by her account, as do Machado and Byrne.
Following an internal investigation, MIT concluded last month that they had not "found or received information that would lead us to take any action to restrict" Díaz from his position on the school's faculty. The Boston Review, where Díaz is a fiction editor, also decided to maintain their relationship with the author following an inquiry, a move that led to three editors resigning from the publication in protest. Díaz stepped down from his role as chairman of the Pulitzer Prize board in May pending a review.