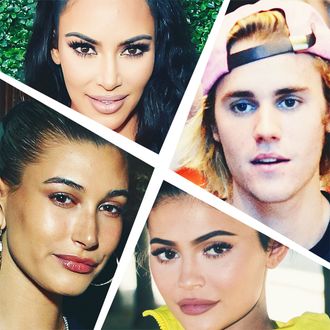 The love lives of Hollywood millennials are a lot like high-school science experiments. There's much to dissect, and every once in a while, there's a pop quiz to check and see whether we've been paying attention to our coursework. The most recent specimens on our lab table? Canadian pop star Justin Bieber and Met Gala attendee/Instagram user/part-time model Hailey Baldwin.
By now, you've surely seen the relationship timelines and the countless look-backs at Hailey's former #Jelena stan tweets, along with that epic video of Hailey and Justin meeting for the first time nine years ago. But if you sift through the cobwebs of their nearly decade-long courtship, you'll find that these two individuals have spent most of their young lives finding their way to one another. As always, it's my honor to show you just how and why this union is blessed by the powers that be — God and/or Kris Jenner.
Let's get this out of the way right here and right now: Aside from Selena Gomez and Justin's myriad other flings, one of his gossip mainstays is and has almost always been the Kardashian and Jenner family. And no amount of churching can wipe away the creepy nature of Justin most likely having had sex with at least two of the Kris Jenner's kids (Kourtney Kardashian and Kendall Jenner). He also, at the very least, definitely had a steamy photo shoot with Kim Kardashian (when Justin was 16 and Kim was a lot older than 18). Why are these Kardashian Konnections important? I'll tell you, duh.
In 2014, when things were first cooling off between Justin and Selena, things were heating up between Selena and the Jenner gals (yep, they were all friends). But Kylie allegedly caused a larger rift between her musical pals and put a swift end to her friendship with Selena by sending sexy pictures to Justin. This was four years ago, when Kylie was just 16 — and friends with Hailey Baldwin.
Justin has an even longer history with the Kardashians, going all the way back to before his 2010 photo shoot with Kimberly. The Bieber-KarJenner connection does start with Kim, though, because they met at that year's White House Correspondents Dinner. There, Justin joked that Kim was his "girlfriend," and Kim replied that she had "Bieber Fever." Yes, she was a grown woman, and he was a child, but age ain't nothing but a number in Woodland Hills. I assume Kim found Justin a more suitable friend for her actual teenage sisters at the time, and that's how Justin got looped into the family's life, and by extension, Selena. By 2014, Justin and Selena had been dating for about four years, which is how she met the Jenner sisters. But again, that friendship fell off quickly, due to the flirting drama between Justin and Kylie. This drama is also why the tannest photo of 2018, Selena and Kylie at this year's Met Gala, was so major, as the two ladies hadn't been seen together in years.
Given Selena's family and friends' constant disapproval of Justin, it's no wonder he felt more at ease with a gaggle of supporters with whom he can both casually fuck and joke about paternity in the context of their 55+ mom, Kris Jenner. (There's also the fact that Kris Jenner is dating Justin Bieber's manager's Scooter Braun's employee, Corey Gamble. That relationship also started in 2014; 2014, the year of all new love, it seems.)
Detailing both Justin and Hailey's history with the Kardashian Kompound is almost as exhausting as trying to find a linguist to invent a word to describe how Kendall, Kylie, Gigi, and Bella Hadid are sort of stepsisters by their once upon a time stepparents David Foster and Linda Thompson. All roads lead back to Calabasas, which is why we should be just about as concerned about our nation's future majority coming from the seeds of Kris Jenner, or those adjacent to her, as we should be about fracking. I promise you, her involvement in the love lives of America's youth will be an epidemic that will have historians scratching holes in their heads for years to come.
But let me get back to the history we're living now. Much like Christian Kris (who owns her own Calabasas church that has both tax issues and a glaring Kardashian absence — none of her famous family are members), Justin and Hailey enjoy themselves some good old-fashioned Jesus Christ. Think of them as those super-hot kids in high school who probably had sex under the football bleachers, but prayed afterward. This is how Christian they are: Combined, they share about 81 tattoos (Hailey has 19 and Justin well over 60), many, many of which allude to God in some way. Justin has the requisite crosses, "SON OF GOD," and prayer hands inked on his person, and under the guidance of Kendall Jenner Hailey has the words "PRAY" on her hands. And not in a boring way either, a cool way: "PR" is on her left hand and "AY" is on her right, so when she gets down on her knees for prayer each night and clasps her newly engaged hands to pray, the word "PRAY" is formed. An even bigger blessing for the couple is that many of their tattoos were tattooed by the same man, JonBoy. I think we just found their officiant!
Unlike myself, who gets her church fix via podcasts while on the subway, Justin and Hailey hit the church IRL on the regular. And not just any church, the church in Hollywood — Hillsong. Members include Chris Pratt, the Kardashians, Selena Gomez, Bono, and just about anyone else too scared of Leah Remini to join Scientology – it's that celebrity driven. It's also driven by a man, and Justin's BFF, Carl Lentz, who has no qualms about perpetuating Hillsong's deeply homophobic platform. According to Carl, he doesn't hate gay people, he just "does not affirm all lifestyles," and "because of this [Hillsong does not] knowingly have actively gay people in positions of leadership, either paid or unpaid." Justin's mentor also disagrees with a woman's right to choose whether or not she should get an abortion. Still, Hailey and Justin frequent HellHillsong regularly. Their first time together was with Kendall Jenner. Hillsong's very conservative views aren't that surprising, given the fact that Hailey's father, Stephen Baldwin, is a pretty active Trump supporter.
One thing I can tell you for sure that Hillsong isn't teaching the young couple is manners, or the importance of words. Both Hailey and Justin have suffered through bouts of mental instability that resulted in them both using the N-word on separate occasions. For Justin, his mental lapse happened while he was 14 and singing a parody of his song "One Less Lonely Girl" and replacing "girl" with the N-word. He also joked about killing black people and joining the KKK, all of which got giggles from whomever was behind the camera. In 2016, Justin again hurtled the word at a man during a Cleveland fight. For Hailey, it happened just a couple of years ago when she was 19 and a part of a group chat on Instagram. If you're wondering, yes, the chat included black people and Kardashian Konnections: Kylie's best friend, the somehow still getting famous Jordyn Woods, and Calabasas fan favorite Shaun Maurice. Long live young and racist love!!!
I'll admit it, I'm still chatting with my therapist about why I'm still downloading Justin's music like I'll lose an appendage if I don't. But my hope is that these two love birds continue to grow together with one another in Christ, cultural sensitivity, and into actual adulthood. Their coupling does make sense in a Christian camp sort of way. And whose heart doesn't beat twice as fast when Alec Baldwin has another family member he can call a "rude, thoughtless, little pig"?