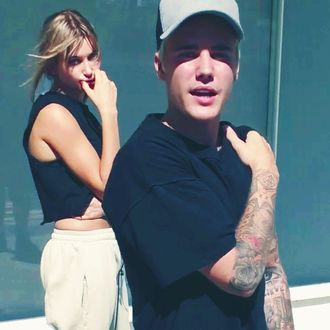 Hailey Baldwin and Justin Bieber.
Photo: JMA/Star Max/GC Images
It appears that Justin Bieber and Hailey Baldwin just pulled a Pete Davidson-Ariana Grande, and no, they didn't get a million tattoos together: They're reportedly engaged after dating for one month.
Two women who witnessed this alleged engagement told TMZ that Bieber, who's 24, popped the big question to Baldwin, who's 21, Saturday night at a restaurant in the Bahamas. Apparently, Bieber's security team told everyone during dinner and some sort of salsa-dancing festivity that they had to temporarily put their phones away, at which point Bieber reportedly proposed.
While the couple dated in the past, they've only recently been seeing each other for the past month, which has been replete with partying and praying — their favorite activities.
Neither Bieber or Baldwin have confirmed the report, but Bieber's dad did post an Instagram of his son this morning, with the caption: "Proud is an understatement! Excited for the next chapter!"
Bieber's mother, Pattie Mallette, also tweeted something that could be in reference to her son's reported engagement: