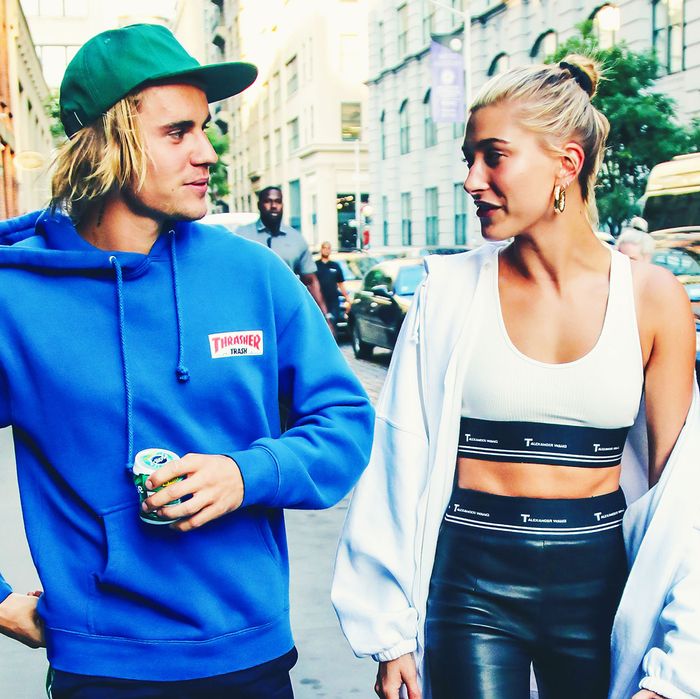 Justin Bieber and Hailey Baldwin.
Photo: Alessio Botticelli/GC Images
Here're your daily Bieber/Baldwin updates. Unsurprisingly, Bieber dropped an insane amount of money on the ring. Sources told TMZ it cost half a million dollars, or approximately one-eighteenth of Kylie Jenner's net worth. TMZ estimates the ring weighs between 6 and 10 carats, which partially explains the astronomical price tag.
Jack Solow, the jeweler who made it, also did an interview with E!, because of course he did. According to Solow, the ring took a few weeks to make — meaning Bieber requested it fairly early on in his rekindled relationship with Baldwin.
If you will recall, Bieber and Baldwin were first seen making out in Brooklyn on June 16, and he proposed three weeks later, on July 8. So somewhere between Domino Park and Hillsong Church, Bieber decided Hailey was the one, and spent the requisite $500,000 to prove it. Solow says he showed Bieber the ring the morning before Baldwin and Bieber went to the Bahamas, which is where Bieber proposed.
Solow also says Bieber told him that he saw Hailey's face in the diamond. That's …. sweet?