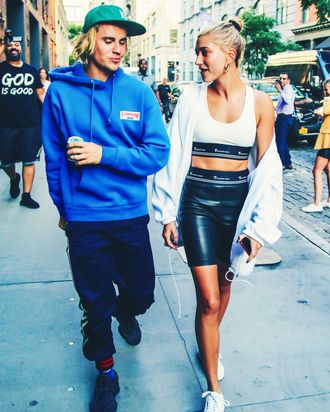 Justin Bieber and Hailey Baldwin.
Photo: Alessio Botticelli/GC Images
Ever since Justin Bieber dropped half a million dollars on an engagement ring for Hailey Baldwin after one month of dating, people have been speculating whether something other than love motivated the proposal. One such theory that has surfaced is that Baldwin is pregnant — a baseless rumor that Bieber promptly shut down when a paparazzi questioned him about it this weekend.
The 24-year-old singer was leaving a Beverly Hills coffee shop when the paparazzo hit Bieber with the wildly inappropriate question, "Is Hailey pregnant right now?" The man then claimed that the rumor emerged because Bieber referred to Baldwin as "family."
While Bieber remained impressively calm, he didn't hold back from expressing his disgust.
"What's your deal, bro?" he said to the pap, "You just seem too, like, you just seem too normal to be doing this job … I just don't understand why you gotta try to get a rise, you know what I'm saying?"
Though the couple only started dating in early June, the two have known each other for nine years and have a lot of shared interests — notably, partying and praying. Therefore, while the engagement was certainly surprising, it didn't come totally out of left field.
Also, didn't the pap see Bieber's instagram after he proposed? He's "soooo in love" with Baldwin.