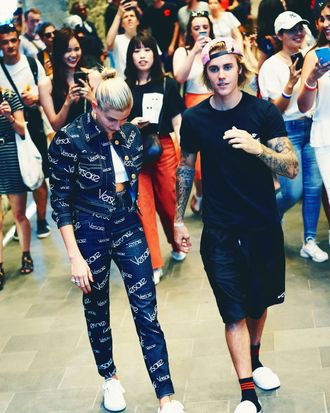 Hailey Baldwin and Justin Bieber.
Photo: Jackson Lee/GC Images
Fashion happens faster than ever these days. Each week, we attempt to make sense of it in a column called, "What Is Fashion."
Growing up in the early-2000s, my young love icons were Britney Spears and Kevin Federline; Kirsten Dunst and Jake Gyllenhaal; Paris Hilton and that other Paris. So, all I knew of young love was that it was deeply messy, to the point where your clothes appeared to fall off you. Love was a droopy spaghetti strap, a low-slung pair of pants, or a beanie hat as floppy as that piece of lettuce Gyllenhaal once watched Dunst shovel into her mouth. It looked terrible, and like most choices we made in the early-aughts, did not last. But it didn't matter; it was real!
This summer, I can't say I've been reminded what that all-encompassing, foolish kind of love feels like, but I have been reminded what it looks like, thanks to a number of young, recently engaged celebrity couples wearing their emotions in public.
Today, the look of young love is best expressed with the slide sandal. Both real and a metaphor, the slide sandal accommodates a life of impulsiveness — of easy, and perhaps frivolous, commitment. They translate status as comfortableness and self-care. They are a Drake lyric in shoe form.
I knew this to be true the moment I saw this photo of Justin Bieber and Hailey Baldwin in the Bahamas, which was allegedly taken right after he got down on one knee for a surprise proposal. Baldwin wears a pair of fuzzy blue Miu Miu slides embellished with pearls; Bieber a pair of turquoise Adidas "Adilettes." Both styles are careless and performative in their own ways — hers impractical and expensive, his the opposite. Their look, to use internet parlance, is "everything."
In the age of Tinder and Instagram DMs, we quite literally slide in and out of our relationships. (You'll recall that Bieber and Baldwin only starting dating again a few months ago.) We expose the vulnerable parts of ourselves in the hopes that someone takes notice. But we also want to remain in our comfort zones — or at least in the illusion of a comfort zone — by hiding behind our brands.
Pete Davidson and Ariana Grande are another couple that became engaged this summer after only dating for a few weeks. Today, Davidson sported a pair of slide sandals with tie-dye Ariana Grande merch. But even if neither of them actually wear slide sandals that often, they both embody the attitude. They don't dress like grown-ups, despite making one of life's most grown-up commitments (and Davidson getting a grown-up makeover by Tan from Queer Eye). Marriage is perhaps just another luxury product Grande and Davidson are trying on for size, along with Louis Vuitton cat ears, Balenciaga sock sneakers, and even each other's faces. (Paris and Paris weirdly did the same once.) They may really be in love, but at the end of the day, a diamond ring is another hyped-up accessory.
Maybe I sound bitter, but let me assure you: I would not mind owning a pair of designer slide sandals, almost as much as I wouldn't mind falling in love again. Just now, I scrolled down to the bottom of my Instagram feed in search of a photo from the last time it was summer and I was in my feelings. Lo and behold, I found two pairs of Birkenstock sandals playing footsie in the grass.