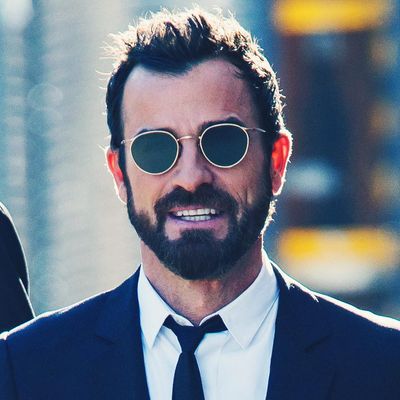 Vagina man.
Photo: RB/Bauer-Griffin/GC Images
The Queer Eye crew is good at many things. Drawing female anatomy is apparently not one of them. We know this because Leo DiCaprio volleyball team member Justin Theroux says he made Tan France (Tanny) and Jonathan Van Ness (Johnny) draw vaginas at a recent group hangout.
Theroux told Jimmy Kimmel, "It became clear that at least Tanny and Jonathan did not know what a vagina looked like. I thought that was kind of a teachable moment. I got very excited. I went upstairs and I got art supplies and I said, 'We're going to all draw vaginas,' because I was dying to know what in their brain that looked like."
The drawings were blurred out on the taping of Jimmy Kimmel Live, but apparently Van Ness's attempt looked "more like a bat." For those who are curious as to how this all transpired, Theroux said he befriended the Queer Eye cast after sliding into their DMs — something he claims to have never done before. Van Ness was already a Theroux fan because of Charlie's Angels; now, according to Theroux, they're sort of like their own "little wolf pack."
Watch the full clip, complete with Kimmel's unnecessary commentary on men in crop top and their sex lives, below.