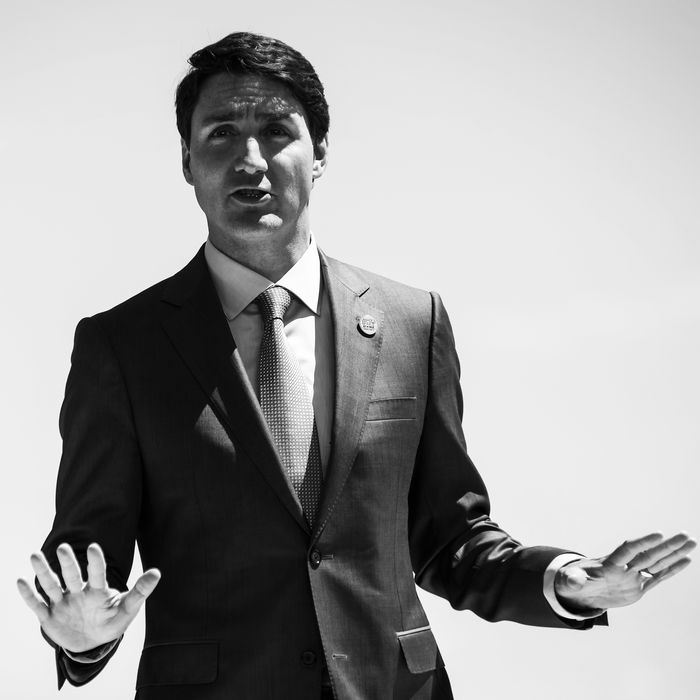 Justin Trudeau.
Photo: Cole Burston/Bloomberg via Getty Images
Canadian prime minister Justin Trudeau has responded to allegations that he groped a reporter at a music festival in Creston, British Columbia, in 2000, telling journalists this weekend that he does "not remember any negative interactions that day at all," The Guardian reports.
According to an unsigned editorial from that year, which was published in the Creston Valley Advance, the then 28-year-old Trudeau apologized for "inappropriately handling" a young reporter covering the Kokanee Summit for the Advance as well as the National Post and Vancouver Sun, telling her, "I'm sorry. If I had known you were reporting for a national paper, I never would have been so forward."
In the last month, the editorial has begun recirculating widely on Twitter. When asked about the allegations this weekend, Trudeau told reporters: "I remember that day in Creston well. I had a good day that day. I don't remember any negative interactions that day at all."
The editorial does not specify exactly what happened, but says that Trudeau, as a public figure and son of former prime minister Pierre Trudeau, should have learned "through his vast experiences in public life, that groping a strange young woman isn't in the handbook of proper etiquette, regardless of who she is, what her business is, or where they are."
The reporter in question told the CBC earlier this year that she did not wish to be associated with any further coverage of the incident, and asked that her name not be used in reports on it.
Her former colleague Valerie Bourne told the CBC that Trudeau's contact with the woman was "a brief touch" and "I would not classify it or qualify it as sexual assault." She added:
"My recollections of the conversation were that she came to me because she was unsettled by it. She didn't like what had happened. She wasn't sure how she should proceed with it because of course we're talking somebody who was known to the Canadian community."