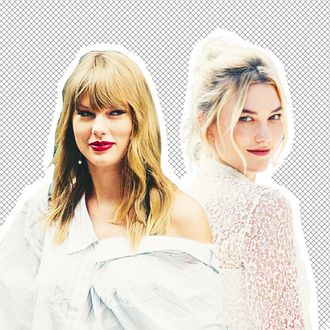 Welcome to You Know What I Heard, the Cut's weekly celebrity gossip column about the peregrinations of the rich and famous.
Karlie Kloss, the 25-year-old model and koder, announced her engagement to Josh Kushner, 33, on Instagram yesterday. Josh is the younger and more liberal brother of Jared Kushner. Karlie and Josh have been dating for six years, and they travel in a pretty serious Hollywood circle: They just finished celebrating on David Geffen's yacht in Italy with Sir Paul McCartney, billionaires Henry Kravis and Barry Diller (who's married to Diane von Furstenberg), and Meghan Markle's designer friend Misha Nonoo. They also count Wendi Deng as a close friend (as does Kloss's soon-to-be sister-in-law Ivanka Trump.) Currently, Kloss is posting screenshots on Instagram Stories of her Facetiming her other friends to share the engagement news, and everyone from Serena Williams to Princess Beatrice made the list. So where's Taylor Swift?
Kloss and Swift used to be inseparable, but they apparently had a major falling out at the end of last year. Neither of them will talk about it, so details about the split are scant. So far, Kloss has not appeared at any shows on Swift's "Reputation" tour. Longtime Swift girl-squad members Este Haim, Martha Hunt, and Gigi Hadid have attended shows, along with Emma Stone and Lena Dunham. Dunham's ex-boyfriend Jack Antonoff also recently attended a show with his rumored girlfriend Carlotta Kohl. So these are the different teams that are forming. But unfortunately for Swift and Kloss, everyone is interconnected: Hadid is very close friends with Williams, for one. Who will Kloss choose as her bridesmaids? Will Swift even get an invite?
Kloss's birthday is coming up on August 3. There is a little, unsourced rumor that she is having a big party to celebrate that and the engagement, and that Swift purposely scheduled her shows around it in order to attend. It's probably wishful thinking, but stay tuned: If Kloss and Swift are ever going to come back together, it will be for the year Kloss gets married, with all the attendant parties and events, don't you think? I, at least, am praying to see Ivanka Trump and Taylor Swift in the same room at least once.
Speaking of Trumps, have you noticed that Tiffany Trump has been getting photographed a lot lately? I have always wondered what she wants out of all of this, and it seems like … she just wants to be a tabloid fixture. (Like father, like daughter.) Currently, she's touring around London and the English countryside with her mom, Marla Maples, and they're getting papped left and right. Here they are literally posing in front of a club and at a motorcycle shop. And someone close to Tiff has been talking to People about all of it.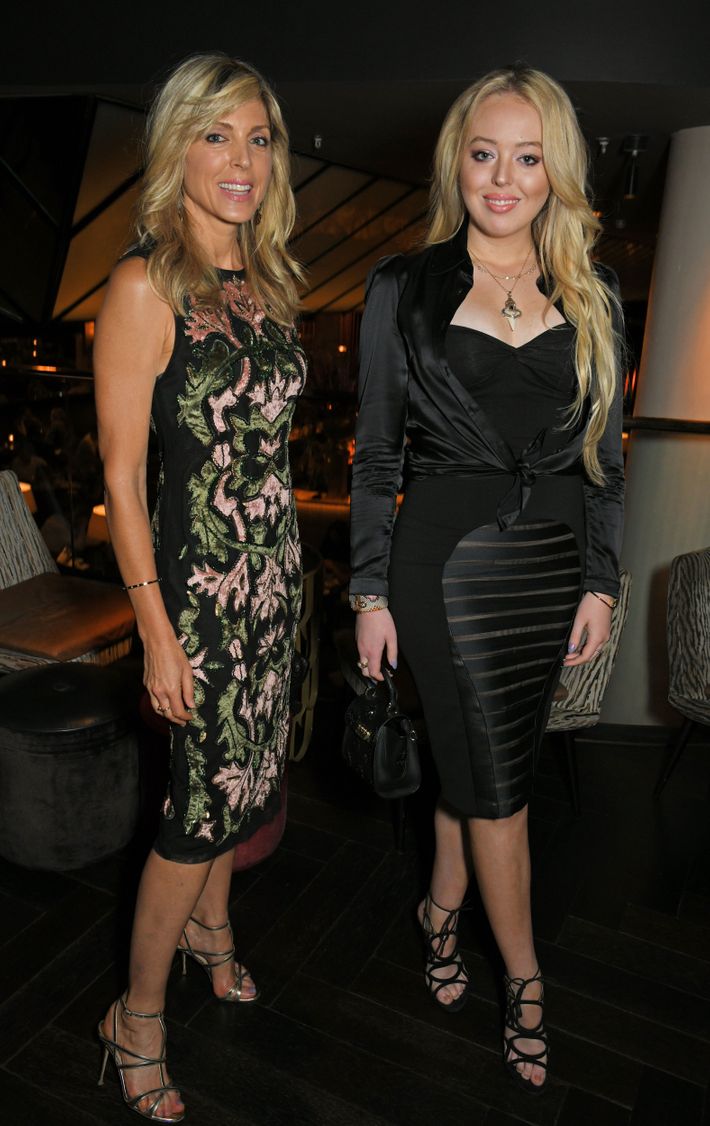 A source told the tabloid that Trump is upset about the "negative attention" her dad has been getting and her breakup with her college boyfriend, whose name you don't need to learn. "She has been having a rough summer," the source said. "The breakup with her longtime boyfriend is still bothering her. All the negative attention on her dad is stressing her out and she's just not been doing well lately."
She is being so brave, dressing up and partying and making sure the photos end up in the Daily Mail.
One small blessing from this week:
"Audrina Patridge and Ryan Cabrera's Relationship Is 'Getting More Serious': 'Her Friends Think He's Great.'"
And here's an interesting blind item from this week, care of Enty at Crazy Days and Nights:
"The PR onslaught continues for this former A+ list tweener and this foreign born mostly television actress. This is going to turn into a Jennifer Aniston is pregnant each week type of tabloid coverage which is right up the alley of the television actress, who is seeing job offers pour in from her home country and in Europe, but I'm not sure the angle for the former tweener."
Maybe they are just in love!
Finally, I'll leave you with this photo of Jennifer Aniston wearing a "Spiritual Gangster" tank top while taking a break from working on a new movie in Italy. I hope you all have a peaceful Wednesday.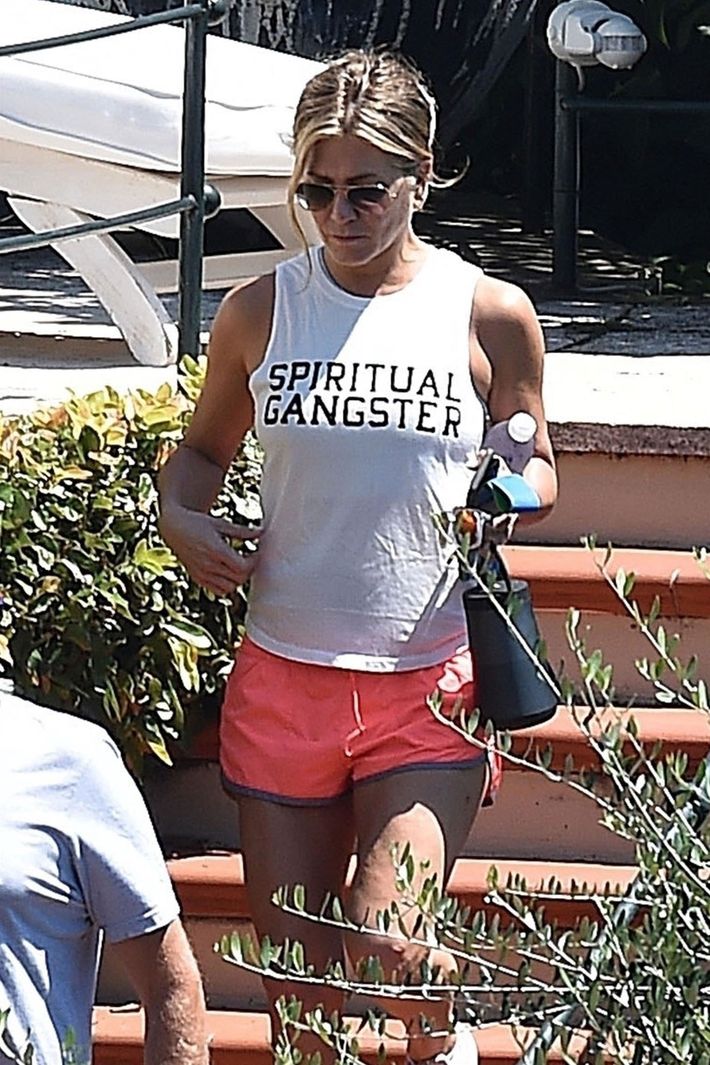 Thanks so much for gossiping this week. Don't forget to email me at allie.jones@nymag.com, send me a message on Twitter, or contact me on Signal, if you'd like to chat.