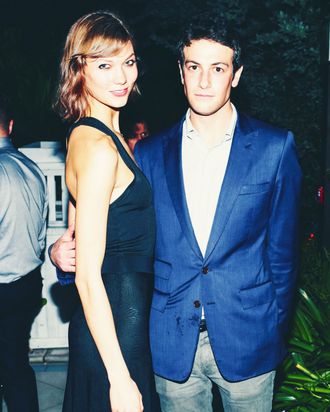 Josh Kushner and Karlie Kloss
Photo: David X Prutting/BFA/REX/Shutterstock
Josh Kushner and Karlie Kloss, also known as the "not working for Donald Trump" versions of Jared Kushner and Ivanka Trump, just got engaged after dating for six years. According to People, the younger Kushner proposed to the supermodel in upstate New York a few weeks ago.
Kloss confirmed the engagement in a rare Instagram post about her new fiancé, writing, "I love you more than I have words to express. Josh, you're my best friend and my soulmate. I can't wait for forever together. Yes a million times over."
Josh Kushner is the younger brother of Jared Kushner, who serves as an adviser to the Trump administration. Despite the familial connection to President Trump, Josh Kushner, who is an entrepreneur and venture capitalist, has been seen at anti-Trump protests, and donated to the March for Our Lives campaign against gun violence.
People also reported that Kloss converted to Judaism in early June. Kloss and Kushner are reportedly on vacation in Italy right now, hanging out with Sir Paul McCartney.