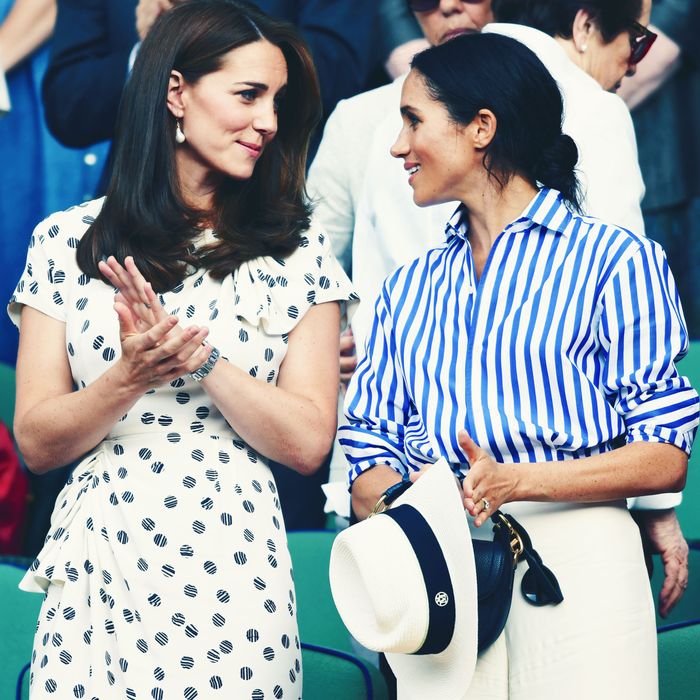 Kate Middleton and Meghan Markle.
Photo: Karwai Tang/WireImage
In an age of political instability and alleged misspoken "woulds," one important question has been at the forefront of everyone's minds: Is there a rivalry between Kate Middleton and Meghan Markle? And now, we finally have our answer: no. Phew!
The duchesses (of Cambridge and Sussex, respectively) were spotted out on their first official solo hang together over the weekend, when they attended Wimbledon to watch Meghan's close friend Serena Williams play. There, Kate and "Meg" laughed, chatted, and did other things that two people who know each other and are sitting next to each other tend to do, like glance at one another.
But more importantly than any of that, Meghan reportedly let Kate "take the lead" during the outing, a "veteran royal photographer" named Mark Stewart told People. By that he means, Meghan walked behind Kate (as she's supposed to do under royal protocol).
Per People:
"There was no rivalry," says Stewart. "It shows how well Meghan has adapted as she is aware that Kate will be Queen one day and her position is different."
Ah, the inspiring beauty of royal friendship.