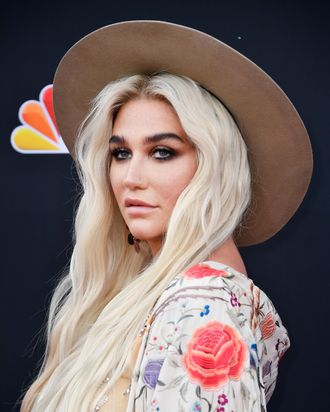 Kesha at the 2018 Billboard Music Awards.
Photo: Frazer Harrison/Getty Images
To celebrate the second anniversary of the release of her album Rainbow, Kesha is releasing a behind-the-scenes documentary about the album that "quite literally saved my life." Rainbow — The Film follows not only the story of the music that Kesha made, but also the ongoing legal battles she faced with Dr. Luke, the man she accused of sexually and emotionally abusing her while working with her at RCA Records.
Rainbow was not only a powerful piece of art, but also a launch pad for Kesha to move forward from her legal battles and fraught relationship with public opinion. "Praying" addressed past pain, while "Woman," was an "an anthem for anyone else who wants to yell about being self-sufficient and strong."
The trailer for the film includes clips of her performance at the 2018 Grammys, where she performed the song "Praying" onstage in all white, alongside other female performers. There are also psychedelic, hypercolorful scenes of Kesha submerged in water and on the shore of a beach.
"I hope this film inspires others to never give up even if you feel full of hurt or lost, because after the storm comes a rainbow," Kesha said in an interview with Rolling Stone, about the new documentary.
"Depression, anxiety and mental illness are things we all need to talk about more, and there is no shame in asking for help."
The documentary will be exclusively released on Apple Music and will premiere on August 10. Watch the full trailer below.