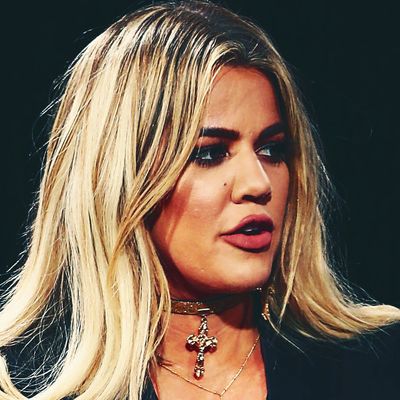 Khloé Kardashian.
Photo: Joe Scarnici/Getty Images
Khloé Kardashian would like you to mind your own business. She would like you to know that she is proud of how she's handled this whole mess with Tristan Thompson, her boyfriend and the father of her new baby, True, although Thompson cheated on her throughout her pregnancy. And she would like you, please, for the love of God, to stop insulting her newborn child.
At some point this weekend — prompted by what, we may never know — the ironically-named Twitter user @Infinite_l0vexo decided baby True was "not cute at all," and, instead of keeping their mean-spirited baby opinions to themselves or sharing them with friends in hushed tones after several cocktails like the rest of us, they decided that they should let Khloé know in a tweet. The new mother did not appreciate it.
Khloé isn't naive. She knows not everyone is going to think every baby is cute. But she would like you to keep those opinions to yourself, or at least be more subtle about sub-tweeting them.
@Infinite_l0vexo's Twitter page has since been deleted (presumably after being inundated with angry messages from Kardashian stans) but their post prompted a debate in Khloé's mentions over the ethics of criticizing a baby's looks. One user said, "It's her opinion!! If Kanye can tweet what he tweets I think anyone can share their thoughts" to which another replied, "Wrong won't become right all because kanye is doing it," and "Even if khloé herself called another baby ugly, it still wouldn't make it right to call her baby or any other baby 'ugly'". Wow, makes you think.
Whatever your feelings on the matter, here are some very cute pictures of baby True, who is definitely cuter than this baby planet.