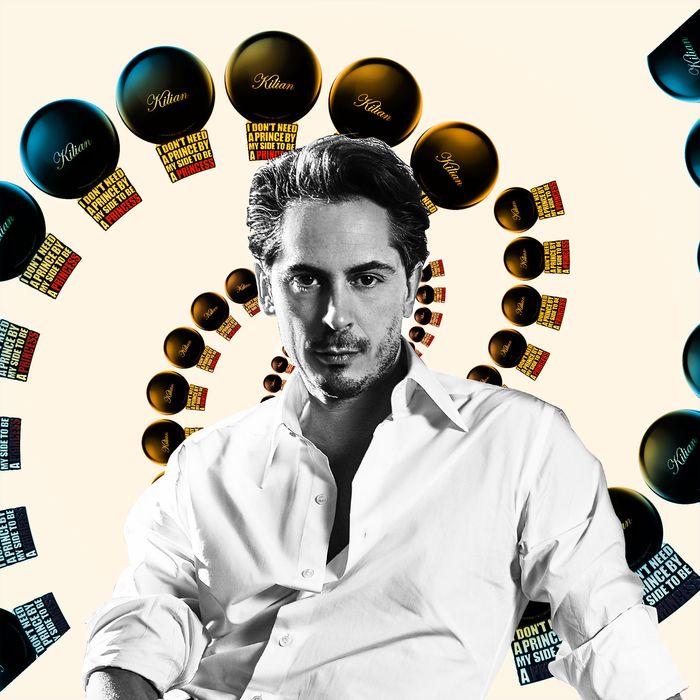 Photo-Illustration: Photos courtesy of Kilian Hennessy
Call it the Proust effect: Memories are often triggered by smells. Scientific studies confirm that out of all the senses, smell offers the best recall. In Scent Memories, the Cut asks people about the scents they associate with different times in their lives. Next up is Kilian Hennessy, cognac heir, hot guy in perfume, and founder of his namesake fragrance line Kilian. Next month, the brand launches My Kind of Love, a new collection of four flirty scents that will undoubtedly help secure that summer fling (available August at Sephora). The Cut spoke with Hennessy about black truffles, salt water, and early mornings in Cognac.
My first scent memory is: It would have to be the scent of the tuberose flower, specifically within a perfume. My mother, my mother's sister, my grandmother, my cousin … every woman in my family used to wear tuberose-based perfumes. It started with Tubéreuse Le Galion, went on to Fracas by Piguet, then Poison by Dior, and Tubéreuse by Caron, until they started wearing my tuberose-based perfume that I launched in 2007 called Beyond Love, Prohibited. A lot of people don't like narcotic flowers such as tuberose, gardenia, or jasmine — I personally love it. I find the scent to be truly beautiful, comforting, and very glamorous. For me the scent of tuberose is very much associated with watching my mother or my grandmother wear evening ball gowns, jewelry, and having their hair done. It's an over-the-top glamour.
Happiness smells like: Eau Sauvage by Christian Dior combined with tobacco. I grew up in a family where everyone was always waking up really late. We'd all meet in the living room of my grandfather in Cognac around 11 a.m. or 12 p.m. But my grandfather and I were always early birds who were up around 8:30 a.m., and when I'd come downstairs there was always a specific smell. He would wet his hair with Eau Savage, using it as a sort of hair gel. It was that smell combined with the tobacco of his pipe. He used to smoke a specific tobacco pipe called Reine Claude. The combination of those scents is imprinted in my olfactory memory forever and those memories are the moments of happiness for me.
Love smells like: Tuberose, again! I married a fellow tuberose addict. My wife was actually the beauty buyer at Bergdorf Goodman when I first launched my perfumes. When I went to meet with her to introduce my collection, I had had an interview in WWD a day or two before, in which I said that I was launching six scents, and that one was a tuberose perfume. I explained why tuberose is so important to me and when Elisabeth (my now wife) welcomed me into her office she said, "I heard you have a tuberose scent! Good, because I only wear tuberose." I was like Oh my, this is a sign [laughs]. We've been together for ten years now. As a wedding present, I created a bespoke perfume for her built on tuberose, jasmine, and daffodil.
Friendship smells like: My scent Straight to Heaven. For a funny reason, all my best friends have chosen it to be their scent. Now if I see any of my five best friends, they're all wearing Straight to Heaven, so friendship literally smells like that to me now.
Success smells like: Champagne. I feel that's a bit of an easy answer, but I haven't come up with something better yet…
The worst smell is: That's easy: the smell of dead flowers resting in a vase of water.
Sunday morning smells like: Pancakes, bacon, and newspaper, with maybe a little spritz of Bamboo Harmony. On the weekend, this is my smell because it is a very light white tea scent with mimosa flower. It is my lightest scent by very, very, very far. Usually when I get up weekends, I've gone out the night before, so after I jump in the shower I need to feel clean and refreshed, and that scent provides that feeling throughout the day.
Monday morning smells like: I've given a lot thought about it and actually, Monday smells like nothing. It smells like a clean page ready to be filled.
My home smells like: Candles. I have different candles for every room. The bedroom is scented with French Boudoir, which is — guess what, a tuberose candle. The living room is scented with a collaboration I did with Caviar Kaspia, the restaurant in Paris. We created a candle that smells like the restaurant so it's a woodsy scent with a sea-salt tonality. The TV room is scented with Noir Ottoman, which is a woodsy, musky scent that isn't too strong — the TV room is very tiny so I needed something that wasn't overpowering.
A pleasant surprise smells like: The sea. I didn't grow up next to it so I don't ever miss it, but I understand why people who've been around it all their lives miss that specific smell. Every time I go back to the sea it feels so good; the physical aspect along with the smell.
My favorite food smells like: Black truffles … but the way we eat them in the southwest of France. You take an entire raw black truffle, slice it into a very thin slices, and put those slices on pain de campagne (country bread) with olive oil and sea salt, and make a sandwich of it. Oddly enough, the smell of truffle oil mixed with floral in a fragrance is one of the worst smells to me.
If I could have one smell on my hands forever, it would be: Scarlett. That's what I called the bespoke fragrance I created for my wife.
I smell like: Right now, I smell like a potpourri of five different scents because I'm in creation mode, so I currently have five different trials on my arm!
If you buy something through our links, New York may earn an affiliate commission.