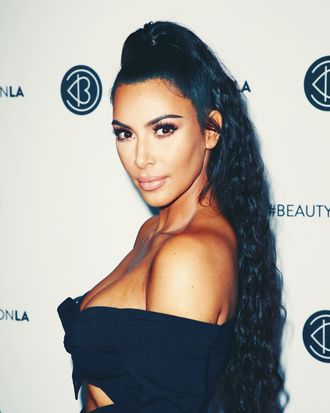 Kim Kardashian West.
Photo: David Livingston/Getty Images
One Chicago-based marketing firm is claiming that Kim Kardashian West used their trademarked speech bubble-like logo without the company's permission, and they're not happy. According to TMZ, Vibes Media is suing Kardashian West for using the logo on her new Vibes perfume.
According to TMZ, the aforementioned logo is featured on Kardashian West's new Vibes perfume, and the marketing firm is suing. This lawsuit comes just one day after Kardashian West launched her Kimoji perfume collection, which includes three scents: Vibes, Peachy, and Cherry. The only perfume that Vibes Media takes issue with is, unsurprisingly, Vibes.
Good thing Vibes Media only has a few tiny demands to make things right: Simply destroy the line, and give it damages.
The overall vibes here: Not good!