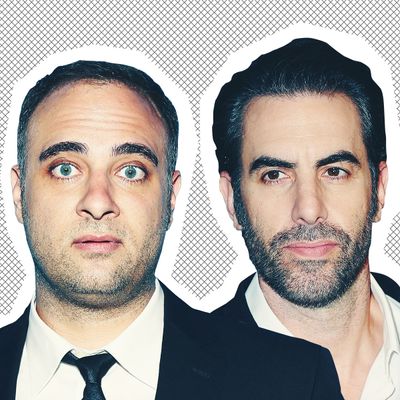 Kurt Metzger and Sacha Baron Cohen.
Photo: Getty Images
In his new series on Showtime, comedian Sacha Baron Cohen asks Who Is America? To help him answer that thorny question, he hired, among other (exclusively) men, Kurt Metzger, the disgraced comedian who has openly mocked rape accusers and harassed women like Lindy West and Sady Doyle who spoke out against rape jokes in comedy. Which raises the question: Are there simply no other comedy writers out there?
In a tweet this weekend, Buzzfeed's Summer Anne Burton noted not only that Metzger was listed as one of the writers on Baron Cohen's latest mockumentary series, but that none of the show's ten writers are women. "Who is America indeed," she wrote.
Metzger fell from grace in 2016, after he came to the defense of comic Aaron Glaser, who was banned from the Upright Citizens Brigade theater when he was accused of rape by multiple women. In a since-deleted Facebook post, Metzger mocked the allegations against Glaser, whom he referred to as "Jiff Dilfyberg" (how could Baron Cohen possibly pass up that kind of writing, folks) writing, "Jiff Dilfyberg is a rapist! I know because women said it and that's all I need! Never you mind who they are. They are women! ALL women are as reliable as my bible! A book that, much like women, is incapable of lying!"
Metzger was writing for Inside Amy Schumer at the time. Schumer denounced his comments, but later defended him in an interview with Charlie Rose, saying, "He's not Bill Cosby."
Those were not his first troubling statements about assault. Three years earlier, after her appearance on W. Kamau Bell's FX show Totally Biased to debate rape jokes in comedy with Jim Norton, Lindy West said she was subjected to a series of angry Facebook comments from Metzger. A screenshot West shared with the Daily Dot includes comments like, "the 1 in 4 rape statistic in BULLSHIT. it's more like 1 in 14," "the 1 in 4 is an old feminist lie that people just seem to accept for some reason," and "not all feminists. a certain kind. let's call her a cunt."
The Daily Dot also shared a screenshot of another since-deleted Facebook post from 2013, in which Metzger apparently brags about choking an ex-girlfriend, writing, "I had an ex smash all my shit with a hammer because she was insane and i choked her. Not really hard, but definitely criminally." Adding, "Who the fuck thinks they can smash my shit with a hammer??? […] fuck you bitch. you clearly don't have the fear you should have." (The Daily Dot notes they were unable to confirm the authenticity of the screenshots, which Sady Doyle posted on Twitter.)
And now, after a brief hiatus, Metzger got a crack at answering the question "Who is America?", though his hiring raised some eyebrows on Twitter.
While Metzger should absolutely be blamed for being a virulent misogynist, he can't be blamed for taking a job that was offered to him. The blame there lays squarely on the shoulders of the Who Is America? creators, who could have chosen literally anyone else to write for them. There has to be at least seven comedy writers out there who are very funny and haven't openly and repeatedly belittled rape accusers. Who knows, maybe a couple of them are even women!
This post has been updated to reflect that W. Kamau Bell was the host of Totally Biased.