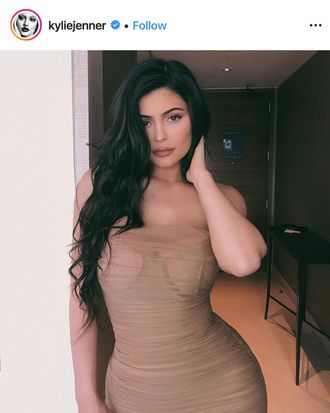 Kylie Jenner.
Photo: Instagram/Kylie Jenner
Kylie Jenner's almost-billion-dollar net worth isn't coming entirely from her cosmetics line. According to WWD, the younger Jenner's Instagram posts are worth $1 million dollars, making her the top-earning Instagrammer in the world.
With 111 million followers, Kylie Jenner charges more per post than the rest of the Kardashian family, including sisters Kendall and Kim. She's even making more per post than Selena Gomez, who has the most Instagram followers in the world.
It is kind of wild to think that this post of Kylie in a waist trainer could be worth a million dollars, but then again, Kylie Jenner's social-media presence has always been powerful. A simple tweet about being dissatisfied with Snapchat's recent redesign cost the company a billion dollars.
Cheers to Kylie Jenner's reign as cool mom, billionaire empress, and million-dollar poster.