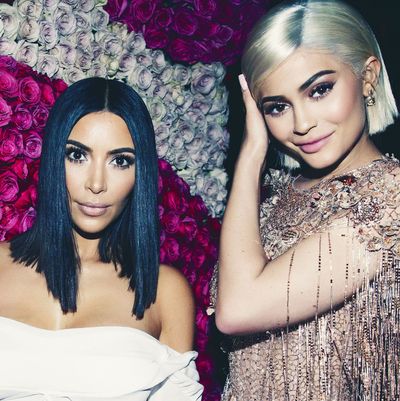 Kim Kardashian West and Kylie Jenner.
Photo: Taylor Jewell/Vogue/REX/Shutterstock
It's official — Kylie Jenner is the richest self-made member of the Kardashian clan. The 20-year-old was ranked 27th on Forbes's list of America's Richest Self-Made Women, with an estimated net worth of $900 million. Her sister Kim, the Kardashian who started it all, was 54th with an estimated net worth of $350 million. Forbes estimates that with another year of growth, she'll become the youngest billionaire ever, trumping Mark Zuckerberg.
The key to Kylie's success is her cosmetics brand, Kylie Cosmetics, which she launched in November 2015. She owns 100 percent of the company, which is worth $800 million according to Forbes. It all started with a humble lip kit. Well, humble in the sense that it came from a member of the most recognizable family in pop culture. Regardless, Jenner is the youngest member on the list, which includes celebrities like Madonna and Beyoncé. Other beauty moguls on the list include Anastasia Beverly Hills founder Anastasia Soare and Huda Kattan of Huda Beauty.
Forbes defined a self-made woman as "anyone who didn't inherit any part of their money," according to WWD. Jenner's fortune includes not only her cosmetics company — which has very few employees or marketing expenses — but also brand endorsements. Jenner mused in an interview with the magazine that maybe she'll pass on the company to her newborn daughter, Stormi. Forbes, for the record, thinks that Jenner's current cosmetic venture will flame out before then. Jenner can celebrate with a glass of Champagne on August 10, when she turns 21.