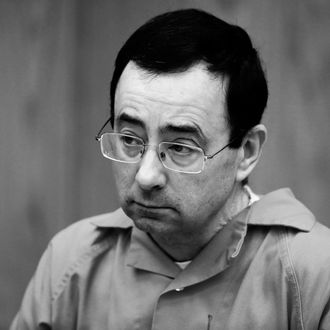 Larry Nassar.
Photo: Jeff Kowalsky/AFP/Getty Images
Larry Nassar's attorney is claiming that the former USA Gymnastics doctor was attacked in prison — and that the judge who presided over his sexual-assault case emboldened inmates to assault him.
According to TMZ, attorney Jacqueline McCann filed court documents alleging that Nassar was assaulted in May, mere hours after being released into the general population at the United States Penitentiary in Tucson, Arizona. Nassar, who was sentenced to up to 175 years in prison after more than 140 women and girls accused him of sexual abuse, claims that he sustained injuries, the details of which are unclear.
In the court documents, McCann attempts to place some of the blame surrounding Nassar's attack on Rosemarie Aquilina, the judge who handed the disgraced doctor his sentencing — or in her words, his "death warrant" — on January 24.
"Unfortunately, Judge Aquilina's comments and conducting of the sentencing proceeding appeared to encourage this type of behavior," McCann writes in the documents, in which she points to Aquilina's "death warrant" comment.
At Nassar's January sentencing, Aquilina stated that while she typically believes in rehabilitation, she feels that Nassar doesn't deserve to have a life after prison for the lasting trauma that he inflicted on 100-plus girls whose cries for help went unheard for years.