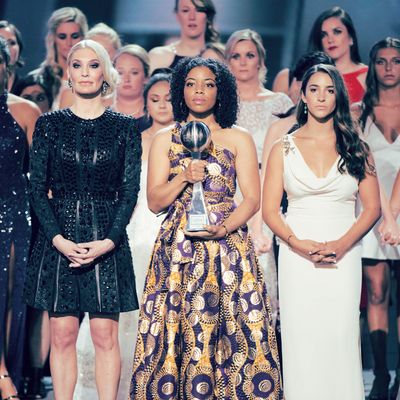 Sarah Klein, Tiffany Thomas Lopez, and Aly Raisman surrounded by fellow survivors.
Photo: Image Group LA/2018 American Broadcasting Companies, Inc.
On Wednesday night, 140 women who had been abused by doctor Larry Nassar united to accept an ESPY award together. They were given the Arthur Ashe Courage Award, presented by Jennifer Garner. Nassar was convicted and faces 40 to 125 years in prison for routinely sexually abusing young women, many of whom were rising gymnasts.
Three representatives – Olympic gold medalist Aly Raisman, former gymnast Sarah Klein, and softball player Tiffany Thomas Lopez – spoke about how they continue to speak about the harassment they faced. Klein called the women onstage a "portrait of survival, a new vision of courage."
"For 30 years the United States Olympic Committee, USA Gymnastics, and Michigan State University all placed money and medals over the safety of child athletes," Klein said. "It is time to start caring about children's safety more than we care about adults' reputations." They also thanked the law enforcement officials who helped convict Nassar, including Judge Rosemarie Aquilina.
Raisman directly spoke to the adults who did not listen when women came forward about Nassar and allowed the abuse to continue for 30 years. "The intention was to silence us in favor of money, medals, and reputation," Raisman said. "But we persisted and finally someone listened and believed us … If just one adult had listened, believed, and acted, the people on this stage would have never met him."
The ESPYs posted the powerful acceptance on Twitter. Watch below.