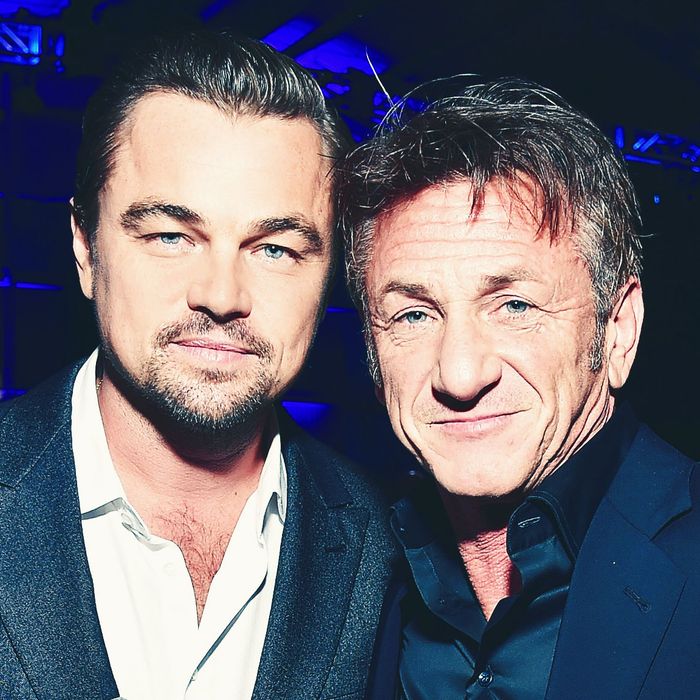 Patriots.
Photo: Kevin Mazur/Getty Images
On Wednesday, 242 years after the Founding Fathers approved the Declaration of Independence, two more founding fathers celebrated Independence Day in Malibu, California, with "volleyball" and "tons of chicks" and "bikinis," TMZ reports. America!
Leonardo DiCaprio (founding father of the Pussy Posse) and Sean Penn (founding father of longform journalism) held their joint Fourth of July party at DiCaprio's house, where they both wore white T-shirts and probably vaped a lot and explained things to people. Host No. 1, DiCaprio, reportedly played a good-not-great round of volleyball, knocking the ball into the net, and then making a "wicked dive" for a ball that went out anyway. Host No. 2, Penn, "appears to have stayed out of the sand."
While it's unclear whether there were any other Pussy Posse members in attendance, or if this was a posse-sanctioned event, it certainly had all of the elements of a traditional PussPoss get-together, namely: "chicks" many of whom, TMZ reports "were in their bikinis."
DiCaprio and Penn have been friends for a while now. In January, DiCaprio was the guest of honor at a fundraising dinner for Penn's Haitian Relief Organization, where he called Penn "an inspiration," and Penn called him "a great inspiration." And in May 2017, at another benefit dinner for Penn's Haitian Relief organization, Penn bravely sat next to DiCaprio even though he was wearing a newsboy cap indoors.