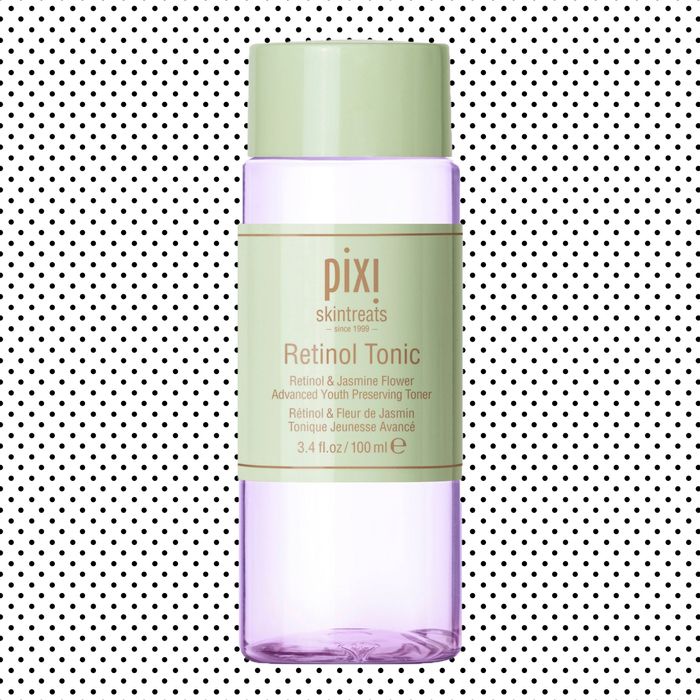 Retinol is widely regarded as a miracle acid if you want fewer pimples and glowier skin, but up until now, it hasn't been available on the drugstore level. The best retinol products have always been fairly expensive, like Dermologica Overnight Retinol Repair or Perricone MD OVM Serum. But beauty brand Pixi, which you can find at Target, just started carrying its own retinol, meaning you can pick it up alongside your usual Target haul of tampons, candles, and tank tops.
If you feel overwhelmed by the variety and price point of retinol products available, Pixi's tonic is a good place to start. Think of it like this: If Pixi was a family, its Glow Tonic would be the cool older sister, the one who is always super put-together and one step ahead of every trend. (Glow Tonic also happens to be known as a less expensive dupe for Biologique Recherche P-50, the exfoliating liquid so good that beauty editors call it "Jesus in a bottle.") The new tonic, by contrast, is the more approachable little sister.
The formula uses a special time-release retinol formula to rejuvenate and soothe skin. Peptides allegedly firm and plump, while gentle jasmine flower is meant to heal and balance your skin. It's paraben-free and suitable for all skin types. Plus, the brand says you can use it morning and night without worrying about redness or skin irritation. There's no need to rinse it off — you just apply it with a cotton pad and follow with your favorite serum or moisturizer.
If you buy something through our links, New York may earn an affiliate commission.