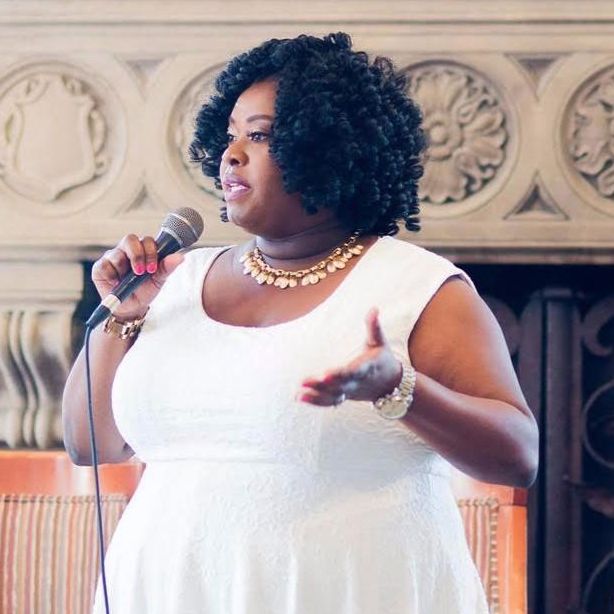 Multiple-step Instagram beauty tutorials might be fun to watch, but not all of us have the time to use four different kinds of lipstick and a liner when we're rushing out the door on the way to work. That's why beauty entrepreneur Roshell Rinkins launched Liquid Courage, a line of vibrantly pigmented lipsticks aimed at busy women.
Rinkins knows a bit about being busy: She works full-time in Silicon Valley, she has over ten years of experience at Fortune 100 companies, and she's an angel investor on the side. As an African-American businesswoman, she's passionate about creating a beauty brand that doesn't leave out people like herself. Below, she talks to the Cut about being a self-funded entrepreneur and creating products for women who are left out of the beauty conversation.
What made you decide to create Liquid Courage in a market saturated with multi-step lip kits?
It came about because I am a woman on the go. I'm very active, whether it's in my community or with my family, and I was tired of having to reapply multiple times during the day — I'm sure that you can empathize with that. When I started formulating the product, I wanted to make sure that it would be long-lasting, with high pigmentation so that would show up really well on deeper, darker tones like myself.
How did your career in Silicon Valley collide with your love of beauty?
If you were to survey my high-school classmates or even my college friends, all of them are surprised that I'm in the beauty business because I'm a tomboy. I actually didn't wear my first lipstick until my sorority sisters forced me to go to the M.A.C counter and buy a red lip. I started my career at Procter and Gamble — the former home of the CoverGirl brand — and got really enamored with consumer products.
I remember falling in love with a particular shade and finding out that it was discontinued literally months later. I was like, "There has to be a better way." So, when I left Procter and Gamble five years ago, I wanted to address what I thought were opportunities in the space.
Like what?
No knock to brands out there, but people aren't truly invested in inclusivity. Yeah, you have a couple of black and Latina faces in your ad, but there needs to be a deeper look at the needs of that particular segment of the market, because different ethnicities have different problems and issues in the beauty world.
With the popularity of Fenty and veteran brands like Iman, what do you think the beauty industry still doesn't understand about inclusion?
The way I look at diversity and inclusion is that diversity is like being invited to the party, but true inclusion is not only being invited to the party but being invited to dance. If you look at a brand and cannot see yourself in their product line, then I feel like you have the responsibility to step up and say "I cannot support this brand." And there are brands out there that make it very clear who their audience is by only including people of color up to a certain shade.
I believe in letting my dollars speak for themselves. But I also think that if there's something that we don't like as customers, it's up to us to expand these conversations beyond living-room walls and say, "Hey, I love your product, but I don't like the fact that when you came out, you came with three shades, and because of that, I went to Fenty Beauty instead because I see myself there." It's about letting the brands know.
What made you realize that working women were being left out of the conversation?
I don't identify with any of those women in makeup ads. I don't have a midriff shirt. I actually have to go to work every single day and I have to show up to meetings and be taken seriously. I think that this group of women are basically being ignored, and so that's what Liquid Courage is — it's to give them a voice and space and say, "No, you belong in this beauty conversation as well, and here's why."
For instance, Stacey Brown, the CEO of Taskrabbit, recently interviewed Michelle Obama with Liquid Courage on. Rochelle Parham, former CEO of Ebay, now on the board of directors for Best Buy, she wears Liquid Courage. That's my audience: real women who are career-driven, family-driven, and like to look good.
What has your experience been like as a black female entrepreneur?
Not all of us are fortunate to have that rich uncle or have parents that have generational wealth. I'm a product of an immigrant family — my parents are both from Haiti. So I have to continue to work really, really hard while building my business. I view my 9–5 as my angel investor; it's basically giving me the resources and the capital to invest in my passion-based business.
What advice would you give to women having trouble finding funding their businesses?
I would say that the first step is to self-fund. In order to get others to be invested in your dream, you have to not only put in the sweat equity, but also put in your own money. The second thing I would say is that there's a lot of opportunities right now to get access to capital — low-interest loans from small business associations. I went to Kiva, a platform that allows you to raise money, but it's at a zero percent interest loan. I raised $5,000 in a matter of a month, and they allowed me to pay that back over a period of 12–18 months. I'm also an angel investor myself and participate in Pipeline Angels — that's another opportunity. Pipeline is all about folks that may not have family and friends around, and 21 percent of the founders that have been funded are black women.
This interview has been edited and condensed.