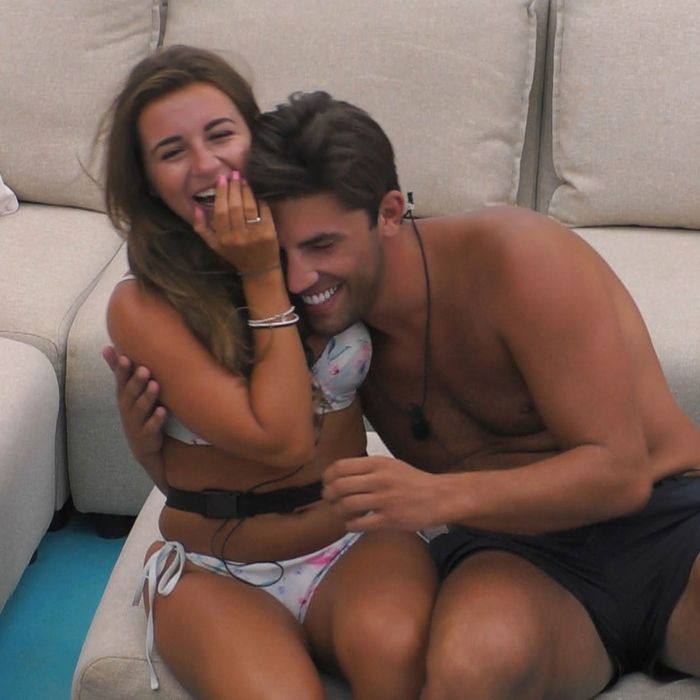 Jack and Dani.
Photo: ITV/REX/Shutterstock
In our era of peak TV, I have renounced pretty much everything except Love Island. This probably makes me sound more abstemious that I really am — for two months each summer, Love Island airs a staggering six nights a week. Since the first week of June, I have devoted nearly 50 hours of my life to this marathon viewing experience, which culminates tonight in the crowning of the U.K.'s most popular couple (no offense Meghan and Harry).
If you, like me, are an American — and missed the coverage of this televised masterpiece in the New York Times, Vogue, and The Guardian — you may be asking yourself: What is Love Island? The short answer is that it's the best show on television. The long answer is that it's a wildly popular British reality show, something like a cross between Bachelor in Paradise and Big Brother, in which contestants compete for love and £50,000 in prize money (not to mention the small fortune of post-show club appearances and fitness apps).
Love Island's "rules," insofar as they exist, are as follows: a group of sexy young singles are quarantined at a luxury vacation home on Majorca decorated in a manner I can only describe as "as if someone took an Ambien before placing a wholesale order at Pottery Barn Teen." The islanders must successfully pair up or be sent packing during periodic "recoupling ceremonies." New men and women are introduced to the villa throughout the season, theoretically to improve the likelihood of finding a love connection, but more accurately to tempt those who already believe they have. As the weeks wear on, islanders are booted off in accordance with votes by the viewers — all 3 million of them.
Much of Love Island's appeal comes from the fact that, unlike Bachelor in Paradise, its contestants are not reality franchise alumni, but regular people. Some are certainly more primed for D-list celebrity than others — there are your models, dancers, makeup artists, and physical trainers — but Love Island's nearly concluded season four also featured a doctor, pen salesman, flight attendant, nuclear systems engineer, and professional surfer. Despite their disparate backgrounds, there is an obvious thread connecting all of them: Love Islanders are near uniformly hot, waxed, ripped, and plumped.
This comes in handy, as there are only two kinds of outfits permitted in the villa: swimsuits and club looks.
When they aren't sunning themselves on dayglow beanbag chairs, pulling each other aside for "chats," or primping for another night of blacking out in their own backyard, the islanders are summoned to participate in a series of nonsensical challenges that promise absolutely no material benefit to the winners. The challenges range from "cheeky" (sex position charades, fireman roleplay) to the revolting: in one memorable third season episode, the couples had to make smoothies without the use of their hands, requiring them to pass macerated fruit between their mouths like horny baby birds. (This is just one of many creative uses to which fruit has been put: early in season four, the women were instructed to drop it like it's hot on ripe watermelons until they burst; last year, they gave blindfolded lap dances to their partners and determined, using only their butts, the kind of fruit each man was holding between his legs.)
It's possible that you are waiting for the point at which this piece becomes an academic treatise, and I "unpack" everything Love Island has to teach us about "the human condition" or "the way we live now." If so, unfortunately you'll have to keep waiting (though Observer columnist Eva Wiseman argued convincingly that the show is "a sort of technicolor locus of all Britain's gender and sexual anxieties"). The truth is that the best thing about Love Island, the thing that makes it truly great, is that it is bad. And unlike most things that are bad, which is to say most things generally, Love Island is not deluded about its own quality. This self-awareness comes through most clearly in its cartoonish voiceover narration, performed by the Scottish comedian Iain Stirling, who makes fun of everything on Love Island: the contestants' circular conversations, their perplexing outfits and blindingly white veneers, the show's low production values, its entire premise, even his own incredibly stupid jokes.
In a crowded field of tedious, expensively produced dramas released in their entirety across an endlessly proliferating group of streaming services with all the fanfare of a surprise Beyoncé album, it is refreshing to watch something with so few illusions. Love Island activates my brain's pleasure centers as effectively as a shot of dopamine directly to the cerebral cortex; that I understand, generously, about 75 percent of what's spoken occasionally gives it the pleasing sensation of a sound bath. Its drama (unceasing) is inversely proportional to its stakes (nonexistent). It has nothing to prove except the enduring appeal of watching hot people flirt and fight by day and semi-publicly fondle each other by night.
None of this is to suggest that my appreciation of Love Island is in any way ironic. I love each and every islander as if they were my own big rambunctious child. I treasure their banter; I dutifully watch their Instagram stories; I cringe at their Daily Mail headlines; and I sincerely wish them success parlaying short-lived reality fame into lucrative careers hawking fast fashion capsule collections on social media. Last year, when one islander who'd been there from the start slow danced with a dreamy Calvin Klein model while a string quartet played Toto's "Africa" on her final date, I cried. There's much to be said for its deranged structure, incomprehensible slang, extremely busted soundtrack, and unsubtle sex appeal — but the real Love Island is the friends you make along the way.