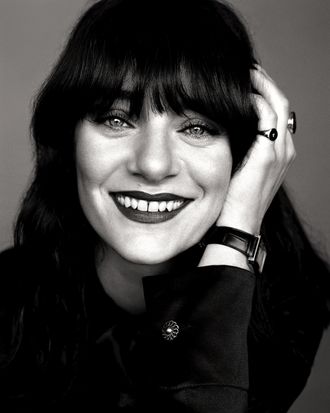 Photo: Courtesy of Chanel
Lucia Pica has one of the best jobs on earth. As Chanel Beauty's global creative designer for makeup and color, Pica's job is to dream in pigments. She travels around the world for color inspiration and returns home to Paris to identify the 50 or so lucky colors that eventually get made into a Chanel beauty collection. Did you put yellow varnish on your nails last summer? Pica came up with that. The Cut talks to Pica about what her job is really like, having "color block," and the emotions that inspired Chanel's new fall 2018 collection.
Your job is to create hundreds of colors for new Chanel beauty collections. What is that process like?
I do it in different ways, but usually I take myself out in the world and start recording. Sometimes I do a travel journey with a photographer and go around looking for the colors. For fall 2017, I did a California road trip. Another time, for spring 2018, I went back to Naples, my hometown.
Then I come back to the studio in Paris, where I work on a moodbook and create the concept. I look at the colors I'm attracted to: Which will make a good lipstick, nail polish, or eye shadow? I spend time in the studio mixing up pigments and colors. Afterward, we send them to the lab, and the lab transforms them into recipes.
For this collection, it was a little more abstract. I was interested in the way that artists used certain types of colors and texture to create intensity.
You named this new collection Apotheosis — why?
An "apotheosis" is the highest point, and I wanted to do the highest research I possibly could into the texture of matte. I wanted to go deeper into things — sort of like what I did for my first collection, exploring red to its deepest points. I wanted to explore how to express matte texture in different ways for the lips and eyes.
Normally, when you think of matte, you picture something a little old-fashioned, heavy, '80s, and maybe it doesn't blend well. In this collection, it's really modern — it's about the interpretation of colors and the texture itself. For these, I worked hard to make sure the eye shadows looked luminous; they're translucent while being matte at the same time.
We have a three-in-one crayon for the eyes (the Style Ombro et Contour). You can use it as an eyeliner, inside your eyes as kohl, and also as an eye shadow blended all over the eyelid.
Then you have the lip crayon (Le Rouge Crayon de Couleur Mat). It's a lip pencil and lipstick together, with a defined and creamy finish. I'm really excited about the Liquid Ink — it's a liquid powder. I know that sounds weird, like they should oppose. But it's a new texture we've dreamed up that gives you a thin veil of color, but still a lot of lip pigment. It's nice for people who want bold lips but aren't comfortable with heaviness of a lipstick. It's diffused — which is a good word for this collection. It's a welcome to the world of bold lips. I'm super happy with it.
You often associate color with emotion. In your first collection, for example, you tied red to strength and sensuality. What emotion do you associate with matte?
I find this one to be more serene, centered, and diffused. When I picture it, it's a woman who is super strong, elegant, unapologetic, and quite centered. She is owning herself. When thinking about the feeling that mattes would give you, I thought about serenity and expansion with earthy, velvet, and mauve colors.
I looked at a lot of art references, and the way they used matte to make really, really deep colors. I'm always going to museums. Anish Kapoor, for example — the black holes he used to create were an inspiration, Rothko, and Georgia O'Keefe landscapes in New Mexico. I thought about the technique being used to create light and shadow. I then imagined that same technique being used for eye contouring to bring out the eye.
Do you ever get color block, much like writers get writer's block? How do you break out of it?
Not yet. Maybe it will happen. It's so confusing. I'm talking about this collection now, but two days ago, I was working on spring 2020. I just don't know where I am most of the time. It's very challenging to think of new colors and shades, especially in a brand that has already done so much. We are constantly checking to make sure that the color doesn't already exist.
I've been quite lucky so far. What is important is to stay open and find compromise. For instance, sometimes we get news that a pigment is not reacting very well with the texture, like a certain blue doesn't respond to a certain recipe. That's when you have to work with it — add more gray or go lighter or darker or add shimmer or take it out. But I'm quite resourceful. Maybe that comes from being from Naples. I'm good at survival mode.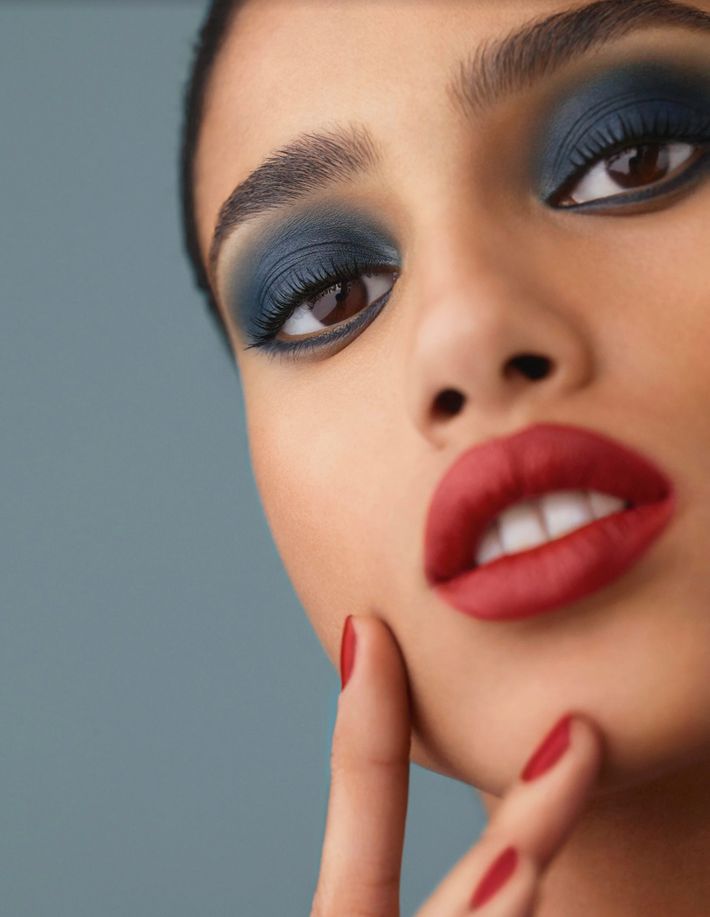 You've said that for for you, wearing lipstick every day is natural. When was the first time you put on lipstick?
I mean — the moment that I was allowed. I was lucky, my parents were quite open, and I started wearing makeup around 15 or 16. I wore more makeup at 16 than I ever have again in my life. It's just that feeling, you know — you just can't wait to wear it and then want to wear it all.
But the whole thing started even before then. When I was 10, I was so excited about putting a lot of it on. I was fascinated the change I thought it would make to my face, that it would make me look like a woman. I liked that type of transformation, that glamorous feel. You could draw on your face — I found that really exciting.
It hasn't always just been red lipstick. I've been through different phases, like '90s supermodels and a brown contoured eye. I've done red, dark red, also a deep brown Rouge Noir like I made for the first collection. Now, I'm at the point where I can put on lipstick straight from the tube. I know it by heart. I could do it without a mirror.
Photo: Courtesy of the Retailer
If you buy something through our links, New York may earn an affiliate commission.