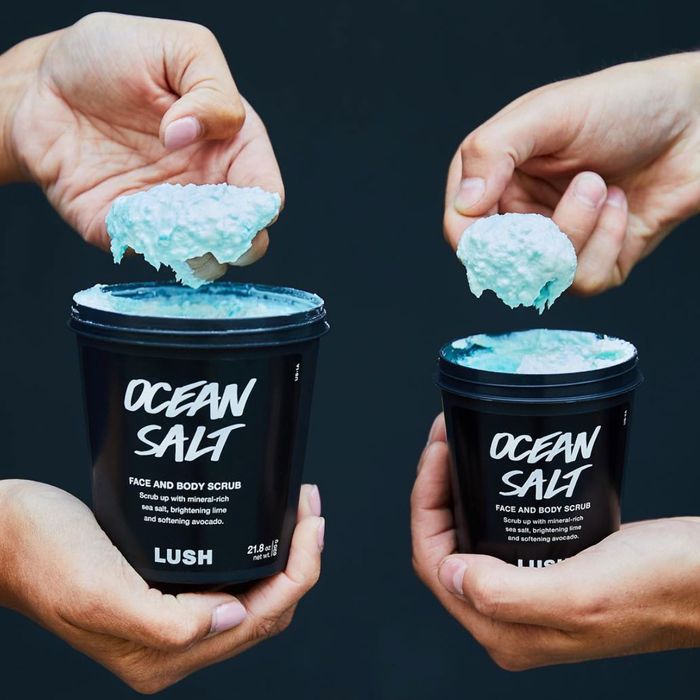 The new super-sized ocean salt.
Photo: Instagram/lushcosmetics
Lush is getting bigger. The natural cosmetics and skin-care company may be famous for their colorful bath bombs filled with confetti and healing oils, but they're also the creator of some great cult-favorite products. The U.K.-based company is super-sizing their most popular products, making them about the same size as (or bigger than!) a pint of ice-cream.
The new XL sizes will roll out on July 20 for ten of their products: Body Lotion in Sleepy, Body Lotion in Dream Cream, Ocean Salt Face and Body Cleanser, R&B Hair Moisturizer, Rub Rub Rub Shower Scrub, Big Shampoo, Mask of Magnaminty Face & Body Mask, Ro's Argan Body Conditioner, Jersey Bounce Shampoo, Retread Hair Conditioner, and Roots Hair Treatment. The prices range from $33 for Body Lotion in Sleepy and Jersey Bounce Shampoo to $80 for R&B Hair Moisturizer. They run between 14.9 ounces to 23.2 ounces (a pint is 16 ounces, for those who often forget the nuances of the imperial system).
The super-sized products (like many super-sized things) are great deals. As Allure points out, the largest product, Rub Rub Rub Shower Scrub, goes from 11.6 ounces for $23 to 23.2 ounces for $38. Buying in bulk pays off.