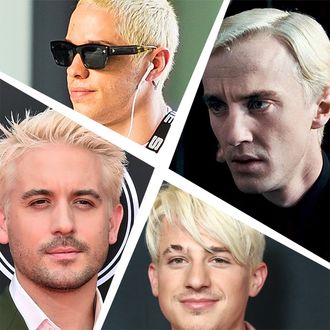 Photo: Getty Images/Warner Bros
Here's a new trend: Young male celebrities channeling Draco Malfoy on their heads. The Harry Potter nemesis's painfully bleached hue has appeared in paparazzi shots of everyone from G-Eazy to that guy who's not Shawn Mendes. It's easy to assume that a drastic hair change (a major cut, weird bangs) signals a time of crisis, and yes, at least one of these platinum makeovers came after a breakup. But some of them have accompanied much more fun things, like getting engaged to Ariana Grande before her anticipated album release! Let's review:
It started with Charlie Puth, who seems to be living his best life on tour and probably just wanted to treat himself to a new look. He's channeling Draco's Goblet of Fire texture with hints of the messiness that later comes into play in The Half Blood Prince. Fun.
Next came Pete Davidson, who went for a more modern, 2018 interpretation of Malfoy, with a buzz cut in his signature shade of Extremely Bleached. Edgy.
Around the same time we were treated to a very blonde Evan Peters. He reportedly went Slytherin for his latest role in season eight of American Horror Story, where he plays a hairdresser. This look is more Draco during the attempted Dumbledore hit. Extra points because this outfit is also très Death Eater chic.
And finally, G-Eazy. He debuted his Draco 'do just last night at the ESPY Awards on the heels of his breakup with Halsey. I think this will eventually grow out into a nice Order of the Phoenix situation. Time heals all; hair and hearts.