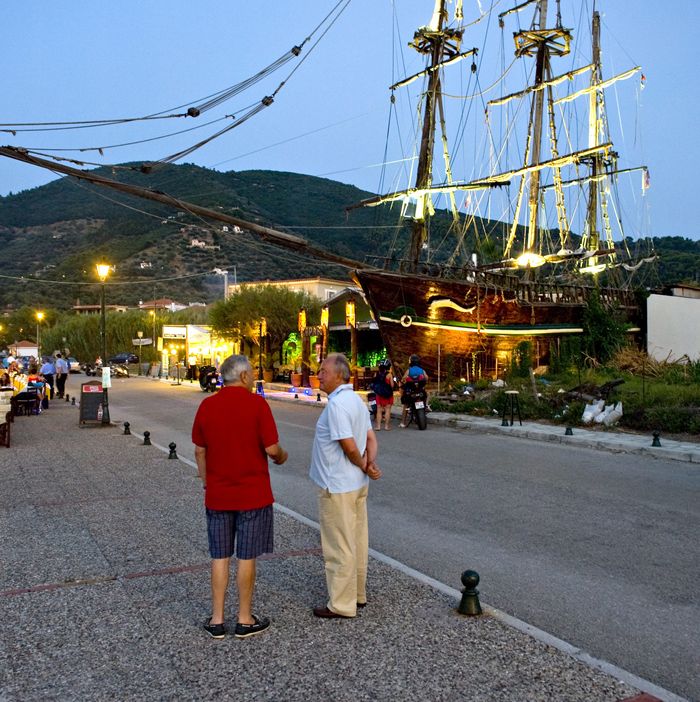 Locals in Skopelos.
Photo: Xavier Testelin/Gamma-Rapho via Getty Images
For the past ten years, the Greek island of Skopelos has been known as the one and only "Mamma Mia Island," a nickname it has proudly worn ever since Hollywood execs picked the island (population 4,700) to serve as the main filming location for Mamma Mia! The Movie. But today, just days out from the premiere of sequel Mamma Mia! Here We Go Again, locals on Skopelos aren't feeling celebratory — instead, they're a little upset.
According to the Mirror, Skopelos must now share its nickname with the Croatian island of Vis, where much of the Mamma Mia! sequel was reportedly filmed because of "hefty government tax breaks." But this justification didn't comfort the residents of Skopelos.
"It was most disappointing for us that filming didn't take place here," Mayor Christos Vasiloudis told the Mirror. "We were very sad. When the second part of a drama takes place it should surely be in the same place."
A staff member at the Skopelos Village Resort where Meryl Streep and Pierce Brosnan stayed echoed the mayor's disappointment, saying, "Everyone is very sad."
But 54-year-old Don, a Scottish tourist and real glass-half-full kind of guy, reassured the Mirror — and simultaneously, locals — that though there now may be another Mamma Mia Island, everyone will always remember the original.
"It's a shame for the locals who didn't get the jobs this time," said Don, "but I think folk will still want to come here to the first Mamma Mia Island."