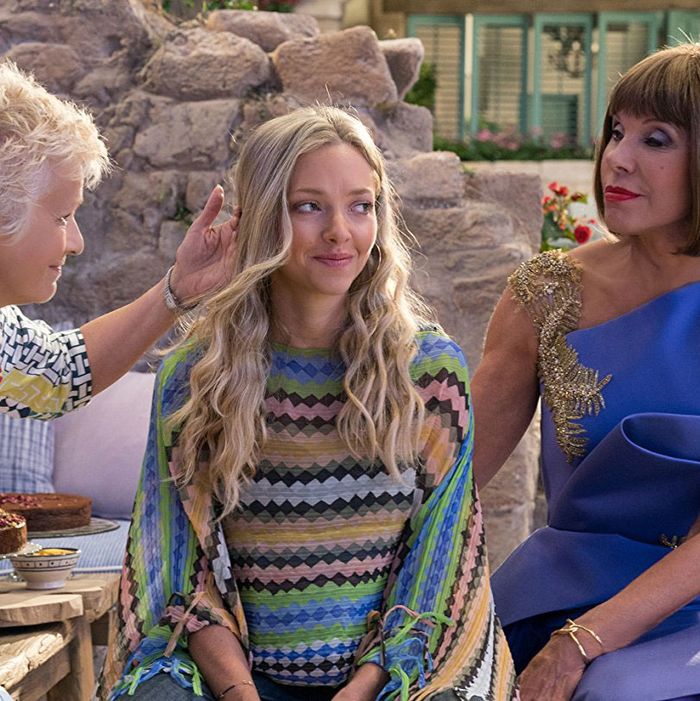 Photo: Jonathan Prime/Universal Studios
If there's anything you should know about me, it's that I love musicals and ABBA. So it should come as no surprise that I love the Mamma Mia! franchise and everything to do with it.
To be fair, when it comes to musicals, I am most familiar with the standards — Cats, Les Misérables, and Rent. But when it comes to ABBA, my passion runs deep. I listened to the Swedish pop group constantly growing up, and later, during the Big Breakup of my 20s, I'd lie in bed crying and listening to "The Winner Takes It All" on repeat for days (Chuck Klosterman once reportedly said it was the only "pop song that examines the self-aware guilt one feels when talking to a person who has humanely obliterated your heart" and I agree).
So if you're asking yourself, "Should I see the sequel Mamma Mia! Here We Go Again (which comes out Friday, July 20)?," I'm well-positioned to tell you: YES. Below, an exhaustive list of all the reasons I love this movie — and why I think you will, too.
Cher steals the show.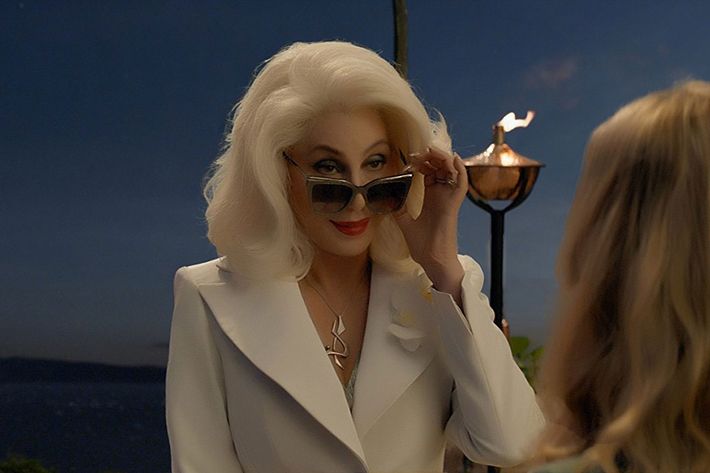 I don't want to publish any spoilers because I'm afraid of angry commenters and/or lawsuits from Universal Studios, but Cher — diva, icon, Twitter user — absolutely steals the show. When does she pop up in the film and in what context? I won't say right now, for the aforementioned reasons, but in the trailer you find out that she is Meryl Streep's mom/Amanda Seyfried's grandmother. Plus, she looks amazing, wears sequins, is freaking BLONDE, and sings "Fernando." I love it.
Christine Baranski has some incredibly horny lines.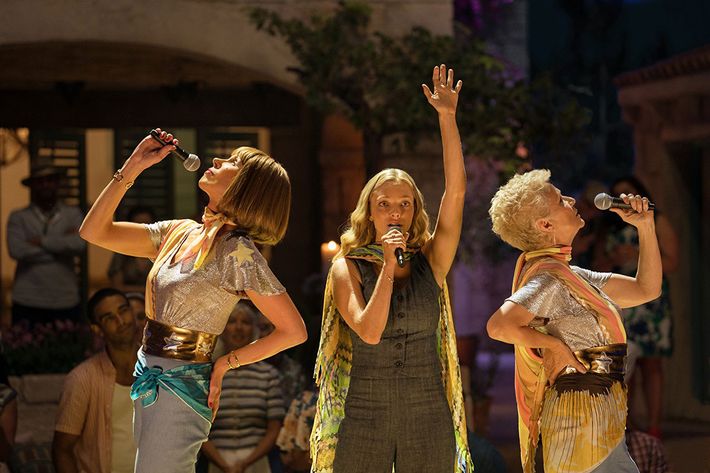 The perfect Christine Baranski is back in the role of Tanya, one of Meryl's best friends and a member of her musical group that sings ABBA songs while wearing platforms. As you'll recall from the first Mamma Mia!, Tanya is a very horny woman. Remember when she sings "Does Your Mother Know?" to the young man who is obsessed with her? This time around, Christine gets to utter some fantastically horny lines, like "Be still, my beating vagina."
It's not "good," but it's definitely great.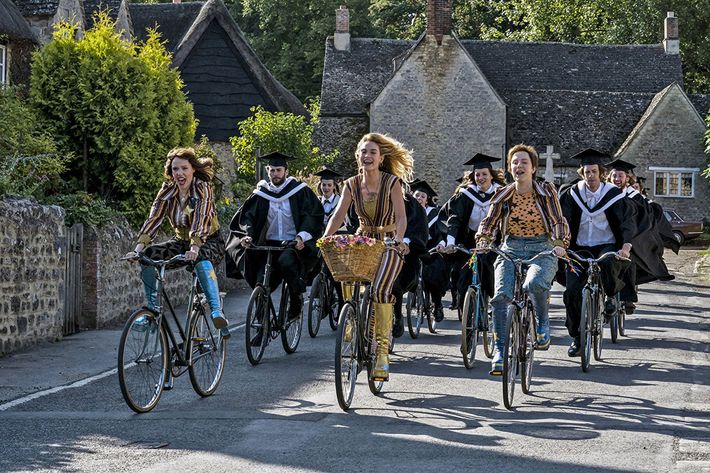 One thing to note about Mamma Mia! Here We Go Again is that the film surely won't win the Oscar for best screenplay or anything similarly prestigious. The lines are cheesy, the plot is corny, and I don't know if anyone would really say it's a "good" movie. But it IS great. The film is fun, colorful, vibrant, cheerful, moving, emotional, and let's be real, sexual. You don't go to this movie to see Citizen Kane; you go to have a good time, listen to some ABBA songs, and to spot me in the crowd because I'm probably there watching it again.
There's a lot of mother-daughter stuff that might make you tear up.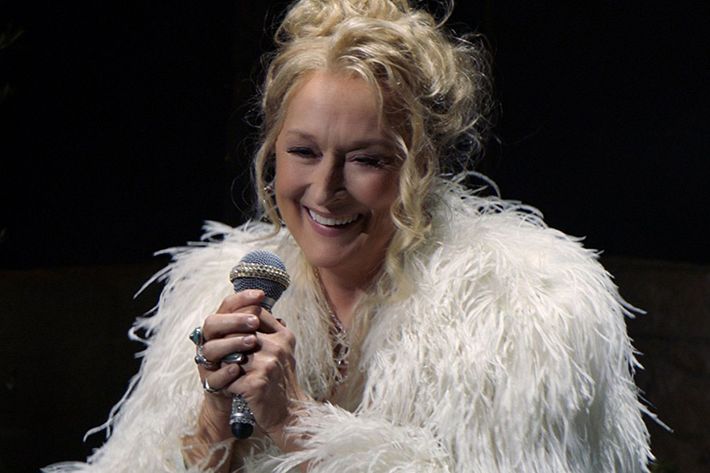 Again, I don't want to spoil anything, but from the trailer you can tell that Meryl Streep is "gone." What does that mean? Is she on a fishing trip far away? Did she abandon her family? Has she fallen into a musical coma? You'll have to watch the movie to find out exactly, but because the film traces how Meryl (played by Lily James as a young person) got knocked up with Amanda Seyfried in the first place, and jumps to Amanda's character being pregnant in the present (per the trailer), you can bet there are a ton of emotional mother-daughter plot lines that will make you want to call your mom and/or cry.
It's basically just musical vacation porn.
Mamma Mia! features music written by Swedish people (ABBA) and is set in Greece, which means that of course the film doubles as vacation porn. This time around, we see young Meryl/current-day Lily traveling around Europe en route to the Greek island where she ends up living, and banging a bunch of guys in the process. The water in the film is so clear and blue, the scenery is incredible, and the Hotel Bella Donna is a place I would want to stay but surely could not afford if it were real.
So much sex! (But no real sex scenes sadly.)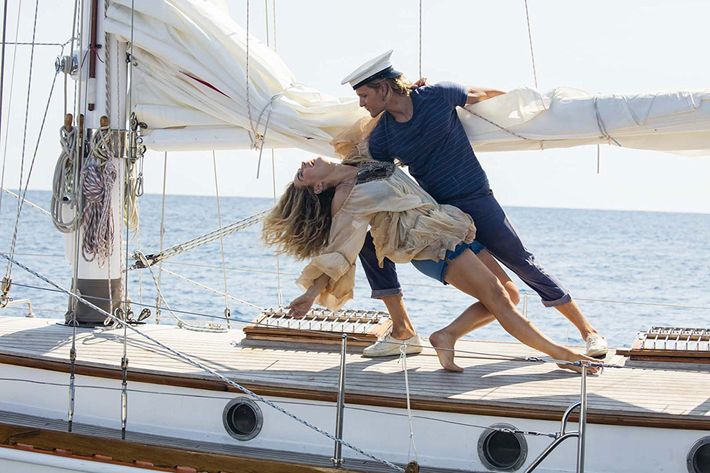 The premise of the first Mamma Mia! is that Meryl had sex with three men around the same time, so it's unclear which one is actually Amanda Seyfried's father. In the sequel, which is also in a way a prequel, we get to see how Meryl got herself into this predicament in the first place. We watch as she meets and falls for and/or has pity sex with each of the three men, and it's glorious. There's so much banging! We don't get to actually see the banging occur, but we definitely know it's happening.
The outfits are bananas, in a good way.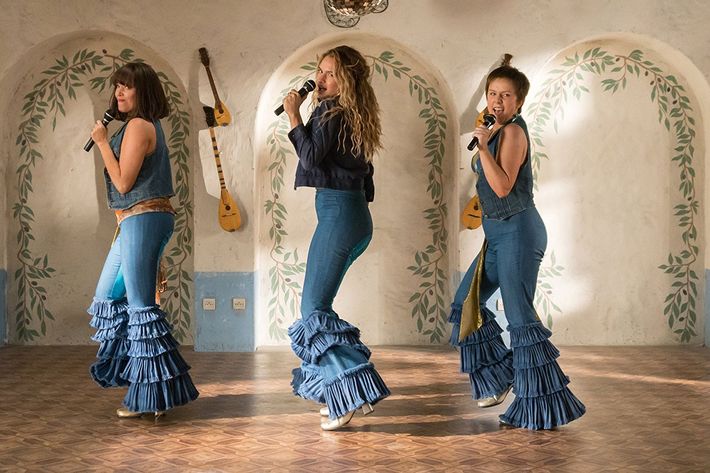 Mamma Mia! is all about ABBA, sex, singing, and family. It's also about ridiculous '70s-esque disco-looking clothes that no human could possibly wear in real life but look amazing and insane and bizarre on film. There are so many bell-bottoms and platforms and very bedazzled shirts, I'm almost inspired to add a few pieces to my wardrobe. Almost.
And lastly … the freaking soundtrack!!!!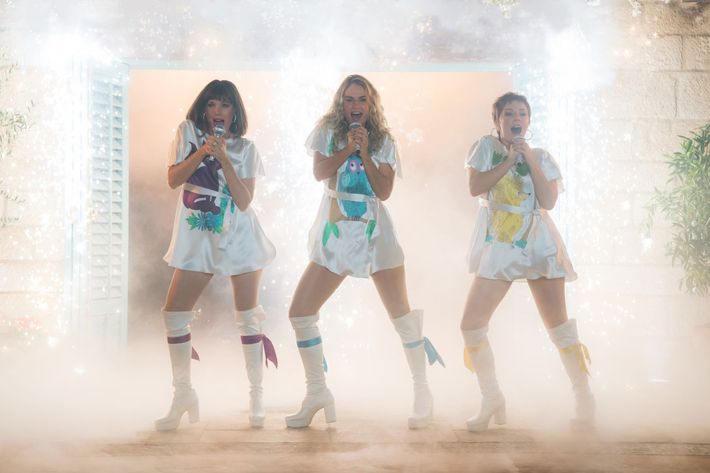 The soundtrack to Mamma Mia! is amazing, so it's appropriate that the soundtrack to Mamma Mia! Here We Go Again is just as amazing, if not better. What makes it better? Why, all the Cher, of course! The Mamma Mia! gang goes through all your favorite ABBA songs that were missing from the original (and then sings some of the classics again), but it's the addition of the legendary Cher that is truly the icing on the cake. There's also less Pierce Brosnan singing this time around, which is a wonderful gift.