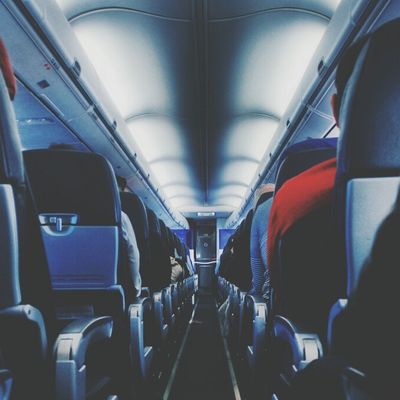 Photo: Lynette Wong/EyeEm/Getty Images
United Airlines, the company responsible for violently removing customers, slut-shaming teens, and being the place beloved pets go to die, is now embroiled in another scandal. A woman on a United flight from London to Chicago says flight attendants made jokes after the man seated next to her started masturbating.
In an Instagram post, Genevieve Pascolla, a 26-year-old photographer from Chicago, said that she woke up to the man next to her touching himself under a blanket. She told the woman on her other side, and they both got up and were offered new seats. According to Pascolla, the flight attendants then started making light of the situation, asking "What perfume are you wearing?" and excusing him, saying, "He's had a bit of wine."
"No one stopped him. He was allowed to finish, with a child sitting closely by, writes Pascolla. She says it took United Airlines a month and a half to respond to her complaint, and they denied her request for a refund. In the email, screen-shotted in the post below, United referred to the public masturbation as an "uncomfortable experience."
"They were excusing his disgusting behavior and making jokes," Pascolla told BuzzFeed. "I understand you can't control the situation, but you can control how you handle it." She filed another complaint and tweeted about the incident before United finally offered her a voucher that refunded half of the price of her ticket.
Maddie King, a United Airlines spokesperson, said in a statement that this sort of "inappropriate and offensive conduct" is "exceedingly rare" on their aircrafts, "but we have a protocol to ensure our customers' safety because it is our top priority."
"That's why, in this case, our customers were promptly moved to different seats in a different section of the plane and law enforcement officials were summoned in advance to meet the perpetrator when the plane pulled into the gate," the spokesperson said, adding that they gave Pascolla "compensation as a goodwill gesture" and called her the same day she arrived for a "wellness check."
Pascolla says that upon landing, a security guard asked if she wanted an apology from the man. "I immediately denied the request."