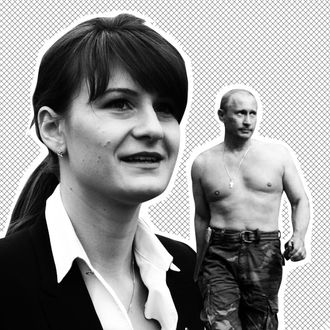 Photo: ZUMAPRESS, Sovfoto/UIG via Getty Images
Last week, 29-year-old Maria Butina was arrested and charged with "conspiracy to act as an agent of the Russian Federation." The alleged spy, gun-lover, and sad food Instagrammer had been in the U.S. since 2016, studying for a graduate degree at American University's School of International Service. But were there any signs that Butina's allegiances might in fact lie with Mother Russia? Well, maybe a few.
According to a new Washington Post report, Butina's "outspoken conservative politics" and "almost zealous embrace of her homeland" drew the attention of her fellow AU grad students, as did her choice of phone accessories. Per the Post:
Butina's cellphone case was emblazoned with a famous photo of Russian President Vladi­mir Putin riding shirtless on a horse.
The Post does not specify which shirtless Putin phone case Butina owned. There's this one on Amazon that's $3.99 plus $3.99 for shipping ($7.98 total before tax) but it's a Photoshopped image of Putin riding a bear, not a horse as the story states. So maybe it was this one from Zazzle sold by TheSovietReunion, that you can get for $26.35, and comes in "Barely There", "Tough", and "Tough Xtreme" models.
While the phone case seems suspicious, there's always a chance Butina was just a regular civilian who enjoyed glancing down at the Russian president's bare, hairless torso throughout the day. But there was also other behavior which, in retrospect, raises some red flags, like bragging "to her classmates that she had worked for the Russian government," for instance.
Butina's vocal support of the Russian government prompted some to alert AU officials about her possible ties to the Kremlin, the Post reports. But the officials "did not appear alarmed" and "did not appear to take any immediate action," and in May — two months before she was arrested — Butina walked in AU's graduation ceremony. It is unclear what phone case she had at the time.
Read the Post's full story here.