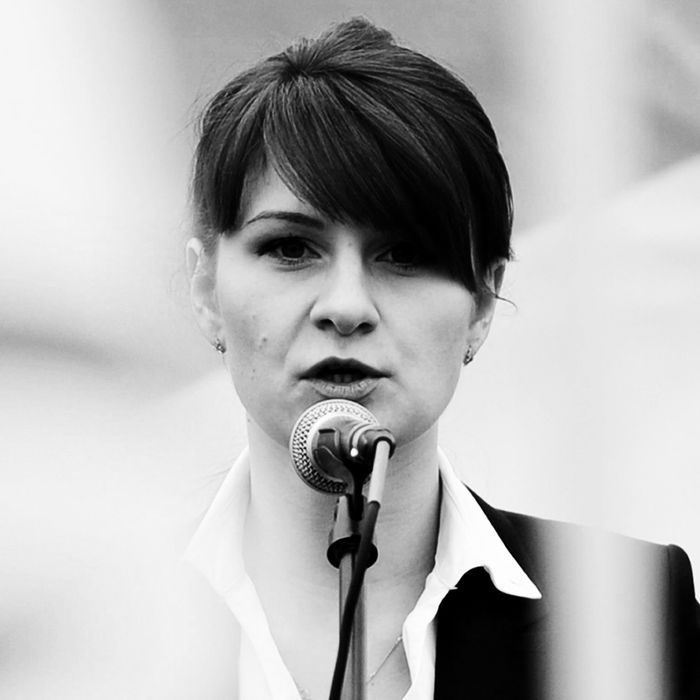 Maria Butina.
Photo: Uncredited/AP/REX/Shutterstock
In a real-life story that sounds like a plotline ripped from an episode of The Americans, a gun-loving Russian woman who allegedly offered sex in exchange for a job is facing charges of being an unregistered foreign agent. Have some questions? Same. Below, here's everything we know about Maria Butina, the accused Russian spy who's being praised as "Anna Chapman 2.0."
So who exactly is this person?
Her name is Maria Butina, and she's a 29-year-old Russian national and gun-rights advocate who is accused of spying for the Russian government in the United States. According to Newsweek, she works as an assistant to Alexander Torshin, the deputy governor of Russia's central bank and an ally to Vladimir Putin, who is perhaps best known for trying to arrange a meeting between Putin and Trump in May 2016. (While Jared Kushner shot down the proposal, Donald Trump Jr. reportedly met briefly with Torshin and Butina.)
Per the New York Times, Butina was involved in two separate efforts to schedule a meeting between Trump and Putin in 2016, both of which failed.
How long has she been here?
The Washington Post reports that Butina has been in attendance at "the most important events of the U.S. conservative movement" for the past five years. However, it wasn't until August 2016 that the Russian national moved to the United States on a student visa, at which point the FBI started to monitor her.
And what has she been doing here?
To quote the complaint, she's allegedly been working to "exploit personal connections with U.S. persons having influence in American politics." One such person — referred to as "U.S. Person 1" in the government's memo, and suspected to be Republican operative Paul Erickson — had a "personal relationship" with the accused Russian spy, who is said to have exploited the connection, as well as others.
"On at least one occasion, Butina offered an individual other than U.S. Person 1 sex in exchange for a position within a special interest organization," the memo reads. "Further, in papers seized by the FBI, Butina complained about living with U.S. Person 1 and expressed disdain for continuing to cohabitate with U.S. Person 1."
The FBI also claimed in court papers that Butina has worked to form relationships with religious organizations and a "gun-rights organization," which was not named but was confirmed by a senior U.S. official to be the NRA.
There's more. In 2017, Butina enrolled in a graduate program for international relations at American University in Washington, D.C., where she allegedly tried to infiltrate political groups on the left, as well. At one point, she sparked alarm when she asked to interview the director of a Washington-based civil-rights group about its cyber-vulnerabilities for what she claimed to be a school project.
In May, Butina graduated with her master's degree, and was planning to move to South Dakota this very weekend, before the FBI got in her way.
What charges is she facing?
This Tuesday, a grand jury indicted Butina on charges of conspiracy and failing to register as a foreign agent. Department of Justice prosecutors allege that she worked with her contact in the Russian government to infiltrate stateside political groups in an attempt to "advance the interests of the Russian Federation."
This story is crazy!
Yeah! Per the New York Daily News, Russia's United Nations mission Twitter account urged its followers to demand Butina's release with the hashtag #FreeMariaButina, and the nation's foreign affairs ministry Twitter account changed its avatars to a photo of the accused agent.
This wild story is just getting started. According to her attorney, Robert Driscoll, we don't yet know the "whole story."
Any other weird details to know about her?
She has a very basic Instagram account that features some highly upsetting food photography. Proceed at your own risk.