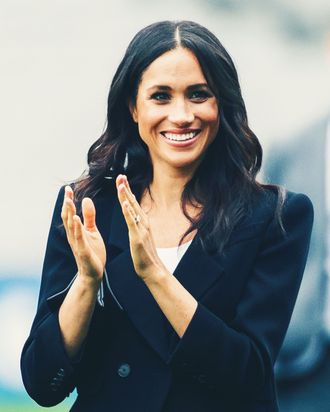 Meghan Markle.
Photo: Samir Hussein/WireImage
Meghan Markle frequently — but politely — laughs in the face of outdated royal protocol and gets away with it, but she may have broken one of the most serious rules. According to the Daily Beast, Markle seems to have expressed her support for abortion rights to politicians and activists — which is technically not allowed, as expressing political opinions is verboten for royals — and the witnesses unknowingly tweeted about it.
Yesterday afternoon, Markle attended a posh garden party in Dublin with some pro-choice activists who mobilized people to vote yes in Ireland's recent referendum to legalize abortion. It was there that the Duchess of Sussex, unsurprisingly, revealed that she believes in a woman's right to bodily autonomy in a very mild comment about the Yes campaign's success. The problem is, per protocol, royals have not been allowed to express political opinions since the 17th century.
One of the women who broadcasted Meghan's comments was Una Mullally, a prominent journalist and campaigner for women's rights. In a tweet that she has not yet deleted, Mullally wrote, "Great to chat with Meghan Markle, Duchess of Sussex, about Repeal and the importance of her feminist activism."
The other woman, who has since deleted her original tweet, was Fine Gael senator Catherine Noone, who was aligned with Ireland's Yes campaign.
"The Duchess and I had a chat about the recent referendum result — she watched with interest and was pleased to see the result," she tweeted, before she realized her grave mistake. She soon deleted the tweet and sent out a new one: "I should say she seemed pleased — she was interested and very measured, not political at all." She later deleted the second tweet, as well.
Hopefully Markle knows better than to vocalize her support of women's reproductive rights next time!