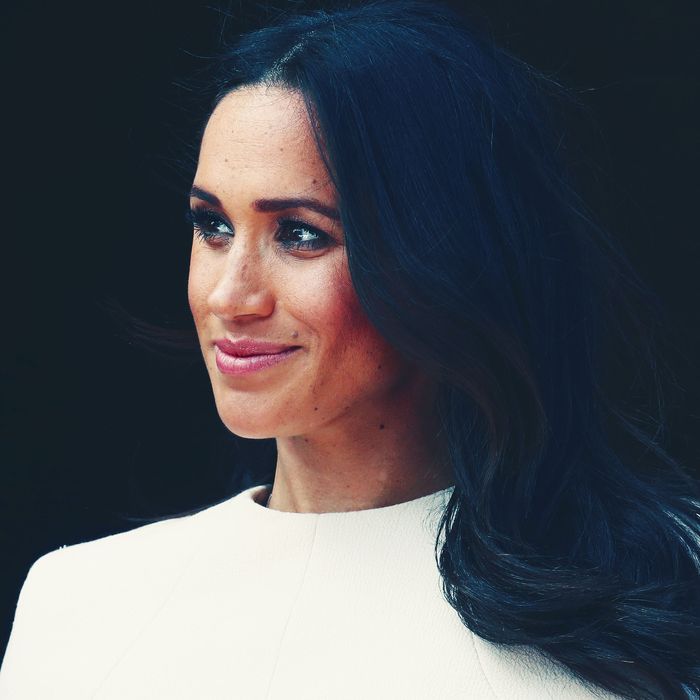 Meghan Markle.
Photo: Chris Jackson/Getty Images
We already knew that Meghan Markle acquired many things when she married into the U.K. royal family: a new husband (Prince Harry), a new title (Her Royal Highness the Duchess of Sussex), and a new passion for hats and pantyhose, to name a few. But we've learned about something else "Meg" got on her fateful May 19 royal-wedding day: A new British accent, apparently.
Following in the footsteps of Madonna, it seems that Meghan, a 36-year-old woman born and raised in California, has developed a posh British accent in the less than a year since she moved across the pond. The duchess's new accent was on full display during her recent road trip with Queen Elizabeth last month — but we're only just seeing proof of it, thanks to a new video that's gone viral:
I'm technically not a linguist, but I have extensively studied Americans-putting-on-British-accents by repeatedly watching Renée Zellweger in all three of the Bridget Jones movies, so I'm an expert at this point. In the video, you can first hear Meghan's new accent when she says "Thank you" in a way that sounds British. Even the way she says, "Oh, did you?" when a person in the crowd told her that they used to watch Suits sounds very London-esque, don't you agree?
But the moment Meghan says, "Yes we all had a great day, I think. The sun was shining for us," truly shows off her new accent, in my opinion. Gone is the L.A.-girl-living-in-the-majestic-oasis-of-Toronto accent we knew and love; now, she sounds like someone who lives in London and is either from there or has just lived there for a while.
So what is my expert opinion on her new accent? It sounds nice, I think. Fancy and royal with a tinge of American. And hey, we all knew it could have turned out a lot worse …