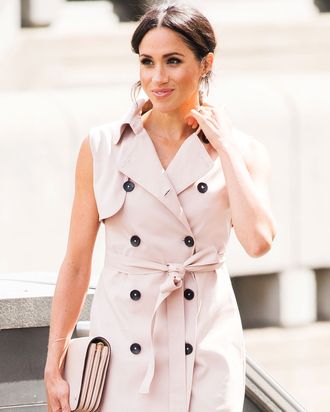 Meghan Markle.
Photo: Samir Hussein/Samir Hussein/WireImage
Meghan Markle's father loves to talk to the press about whatever he desires — a habit that the Duchess of Sussex reportedly resents because she can't do anything to stop him.
Ever since Markle officially tied the knot with Prince Harry this past May, royal protocol has prohibited her from revealing any political stances, wearing dresses without pantyhose, and eating garlic in the presence of Queen Elizabeth, among other beloved pastimes of hers. But according to a source close to Markle, the one rule that frustrates the duchess the most is that she can't address all the drama surrounding her dad, Thomas Markle Sr.
"She doesn't have her own publicist, she can't make any comments on Twitter and she can't reach out to him to tell him to stop speaking to the press," the source told Us Weekly. Her father's comments have an effect on everything."
And her annoyances are completely understandable. Just a week before the royal wedding, it was revealed that Thomas was staging a million ridiculous paparazzi photos of himself (while making bank), and since the big day, he has appeared on Good Morning Britain, picked a fight with the queen, and hinted that his daughter is miserable as a royal. It's really no surprise she wants to shut him up — though whether that would actually stop him is a whole other story.