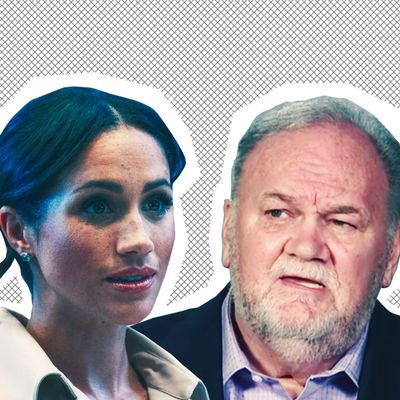 Meghan Markle and Thomas Markle Sr.
Photo: Getty Images
Two years ago, Meghan Markle was not much different from other moderately successful actresses out there. She had a stable role on the USA Network legal procedural Suits, ran a lifestyle blog (The Tig, which was named after wine), had endorsement deals, was active on social media, and worked on a slew of charitable causes. She was slightly famous in certain circles, but otherwise, she was relatively unknown. Of course, all that changed when her relationship with Prince Harry was revealed in October 2016. Now, her every move is followed and recorded by the press — including the drama intentionally created by her estranged and incredibly messy father, Thomas Markle Sr.
His latest? An "exclusive" with the Daily Mail, in which he does what he does best: selling out his daughter.
A brief recap of all the drama that's transpired: It had been reported that Meghan and Thomas hadn't been in contact in quite some time. But a few weeks before the wedding, Kensington Palace announced that Thomas would be walking Meghan down the aisle. How nice and touching … right?
Well, that all went south in April, after a series of seemingly "candid" photographs of Thomas in his adopted hometown of Rosarito, Mexico, began to emerge. First, there was the image of him looking at a picture book about the U.K. at a Starbucks; soon after came photographs of him looking at pics of Meghan and her husband-to-be at an internet café. The pictures fueled a press cycle about the absurdity of the images, and the touching ways Thomas was clearly trying to make an effort with Meghan.
But within days, we learned that the pictures had been staged — and suddenly, a different sort of press cycle spawned: one full of skepticism and contempt. Thomas was no longer the lovable dad hoping to fit in with his fancy new relatives; he was merely yet another leech trying to profit off of Meghan's notoriety. Then there was endless coverage over whether he would be attending the wedding (he ultimately skipped it). He has since given repeated interviews about his daughter — and has been paid for at least some.
The story of Thomas Markle started out as a seemingly innocent tabloid fodder — who was the mysterious father of the most Googled woman of 2017, after all? Then it transformed into something that sounds more like the plot of one of Meghan's Hallmark Channel movies than real life: Woman and estranged father reunite before her wedding to a prince. But the saga quickly turned into a dark tale of parental harassment — one that illuminates the downsides of fame.
In his newest interview with Daily Mail, Thomas took his public manipulation even further. He told the reporters, who traveled to Mexico to speak with him, that men in his family tend to not live past age 80 and "perhaps it would be easier for Meghan if I die." Thomas also said his daughter was upset he had told the press about her plans to start a family — only to double down and say he expects her to have a baby within a year. Throughout the rest of the interview, he continued to paint himself as a victim, before saying something particularly repulsive: "What riles me is Meghan's sense of superiority. She'd be nothing without me. I made her the duchess she is today. Everything that Meghan is, I made her."
Terrible parental relationships are a dime a dozen, but this is a rare one that is playing out on the worldwide stage. Under royal protocol, Meghan isn't even permitted to publicly rebut his comments (a royal rule she's reportedly "frustrated" over), which means the only side of the story that exists in the tabloids is Thomas's. Meghan's father has also made it clear that he will not stop selling her out unless the British royal family does something to appease him. He claims to not want money — though he has accepted payment for his interviews and paparazzi shots in the past — but demands public acknowledgment that he is worthy of his daughter's time.
And so, the story of Thomas and Meghan has simply become bleak, and sympathy for the duchess is mounting. Since the Daily Mail article came out, Celebitchy has called him a "toxic narcissist," the Daily Beast's royal expert Tom Sykes has said Meghan should "never speak to him again," and supermodel Chrissy Teigen has tweeted: "This guy … this guy sucks."
Thomas purports to care for his daughter, yet he does everything in his power to cause her emotional harm. His desire to be in the public eye and to continue to be a part of the conversation of Meghan's new royal life outweighs any sort of love or affection he may feel for her. It's time for Thomas to take the money he's made off his daughter's fame, and just go away.