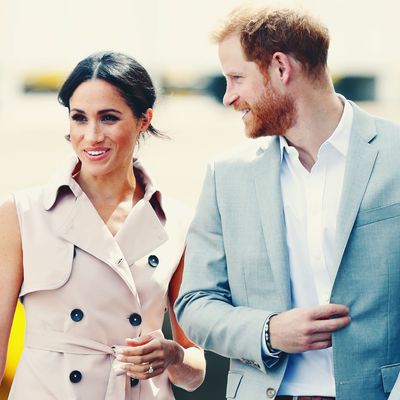 Meghan Markle and Prince Harry.
Photo: Max Mumby/Indigo/Getty Images
Brace yourself, America's prodigal daughter is returning! That's right: Meghan Markle, former Suits star and current duchess of the United Kingdom, is reportedly preparing to bring her ginger husband Prince Harry back home for a tour of good ol' USA!
According to Us Weekly, the duke and duchess of Sussex (or Meghan and Harry, as they would be called in America, because what even are titles?) are still planning on going on an official tour of Australia and New Zealand in October. But after that, they will be headed stateside sometime in 2019. A "palace insider" (the queen?) told the tabloid, "They are so excited to head to the U.S. Meghan is looking forward to introducing Harry to everything she loves about the U.S."
So what is it Meghan "loves about the U.S." exactly? Unclear, though apparently whatever it is can be found in "New York, Washington, D.C., and California," but also maybe "Chicago" or "Canada" (so, everywhere?). But before you frantically scan the cached pages of Meghan's former blog, The Tig, for hints, just know that this will definitely be a work trip.
Meghan and Harry want to solidify ties between the U.K. and the U.S.," the source said "They want to highlight and foster these relationships." That apparently requires a trip to San Francisco, where "they will meet with CEOs and female tech entrepreneurs to encourage their involvement in the industry."
However, this won't be the first time Meghan travels to the U.S. after her royal wedding; this summer she's apparently planning a solo trip to Los Angeles and New York to visit friends. We can only hope she brings her new British accent with her.