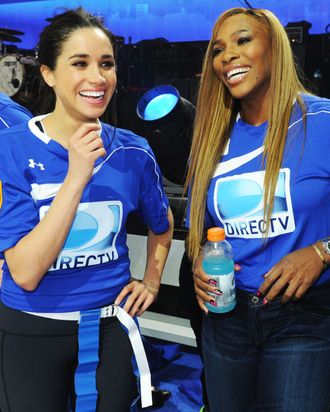 Meghan Markle and Serena Williams.
Photo: Kevin Mazur/Getty Images for DirecTV
In their first public hangout since the royal wedding, close friends Meghan Markle and Serena Williams spent their Saturday watching the princes play a lovely game of polo in a small town west of London.
News 18 reports Williams last-minute cancelled her press conference in Wimbledon, where she was scheduled to discuss her first appearance at the Grand Slam since having a daughter last September, so she and her husband could watch Prince Harry and Prince William compete at the Audi Polo Challenge in Ascot. At the match, the couple and Markle stayed in the Very Very Important Person area — how posh — where they watched the princes' team, Audi e-tron, win 5-2.
According to Hello! magazine, the event supported two charities, Child Bereavement UK and Tusk Trust.
Sounds like Williams made the right decision to skip the press conference — it's not every day that you get to live like a VVIP with your close pal, the Duchess.