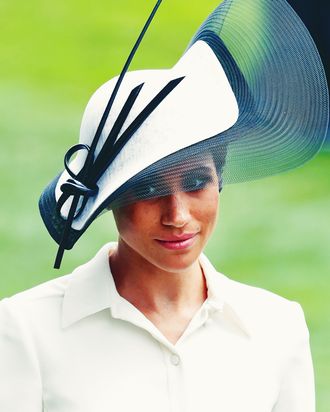 Meghan Markle.
Photo: Max Mumby/Indigo/Getty Images
Meghan Markle may not be able to eat garlic, but she sure does get to wear some pretty fancy clothes as a royal. According to an expert, since Markle officially became the duchess of Sussex on May 19, she's worn approximately $1 million worth of clothing and accessories.
In an interview with Entertainment Tonight, royal expert Katie Nicholl revealed that the majority of this sum comes from the two dresses Markle wore on her wedding day: the Givenchy ceremony gown and the Stella McCartney reception gown, which cost $440,000 and $157,000, respectively. But what's more interesting is who's reportedly been picking up the tab for Markle's clothes.
"It does fall, now that she is married into the royal family, to the Prince of Wales … to cover the cost of her working royal wardrobe," Nicholl told Entertainment Tonight. Prince Charles — what a lad.
Though some of her looks may be pricey, the palace thinks she's worth it.
"Meghan is now an ambassador for the royal family," Nicholl said. "Look at the publicity she has brought in run-up to the wedding. I'd argue that's worth every penny."