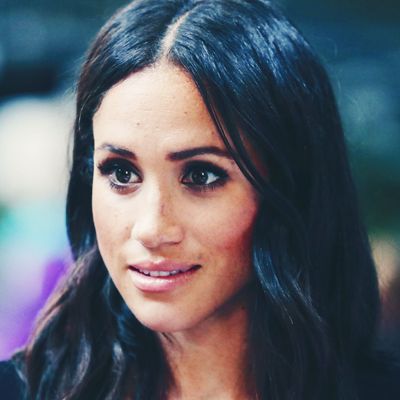 Meghan Markle.
Photo: John Rainford/Getty Images
Someone needs to disconnect Thomas Markle's Sr.'s phone. Meghan Markle's dad gave an interview to The Sun saying that his daughter looks "terrified" now that she's a royal.
"I see it in her eyes, I see it in her face and I see it in her smile," Markle said. "I've seen her smile for years. I know her smile. I don't like the one I'm seeing now. This one isn't even a stage smile — this is a pained smile."
In the same interview, he also ranted that he's been shunned by the royal family for staging paparazzi photos. But he insisted that he wouldn't have been shunned if he sold memorabilia in the U.K. for the wedding (okay). Oh, and he doesn't understand why royals "dress like the 1930s."
This isn't Markle's first time ranting about the royals to the press — not by a long shot. He previously slammed the Queen for meeting with Trump but not with him, and said that Prince Harry told him to "give Trump a chance." Most famously, in the days leading up to the wedding, he dominated the news cycle by calling TMZ regularly to reveal whether he was attending the wedding or not at that given moment. Ultimately, the palace stepped in to say that he would not attend, no matter what TMZ was reporting.
Just 11 days ago, Markle said that he was worried the royals may be "shot" of him. If you're worried about your daughter's in-laws being sick of you, maybe don't go to The Sun shortly after to say that she seems terrified of them.