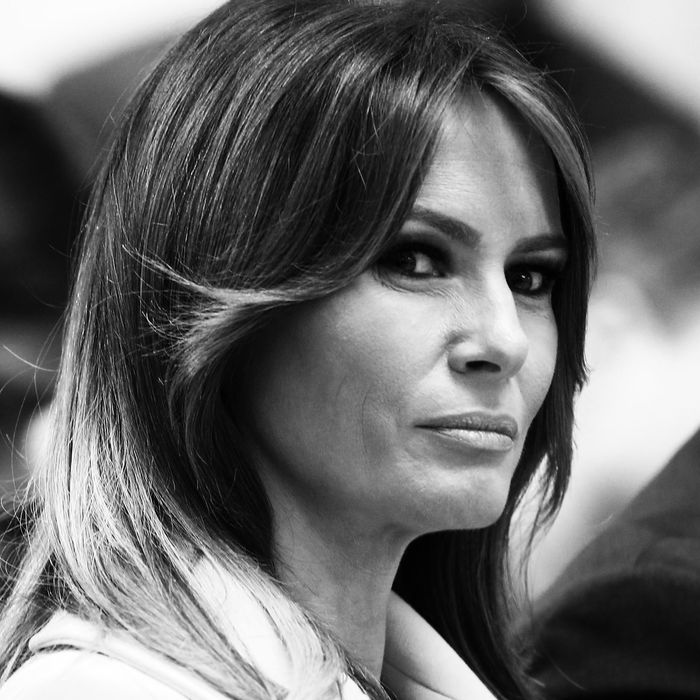 Watchin' whatever.
Photo: Valery Sharifulin/Valery Sharifulin/TASS
There are hundreds and hundreds of TV channels in the U.S. There's Bravo, TV Land, QVC, and several others. And according to her spokesperson Stephanie Grisham, First Lady Melania Trump can watch any of them.
Grisham's brag was in response to an inquiry from CNN reporter Kate Bennett, who asked whether the First Lady had any comments on the newly released Cohen tapes (in which the president can be heard discussing with his former attorney Michael Cohen how to buy the rights to a former Playboy model's story about her alleged affair with him) and a recent New York Times report that the president was upset when he saw Melania watching CNN on Air Force One instead of his channel of choice, Fox News.
"Did you know that every 15 minutes a baby is born with NAS?" Grisham responded, referring to neonatal abstinence syndrome, a drug-related condition the First Lady plans to tackle with her confusing "Be Best" campaign.
"Maybe you'd like to talk about the 160,000 kids who skip school every day for fear of being bullied, or that 280,000 students are physically attacked in schools every month," Grisham continued. "Seems kind of silly to worry about what channel she watches on TV (any channel she wants btw) or if she heard some recording on the news."
Grisham did not elaborate any further about what the First Lady's favorite channels are or how she feels about her husband working to cover up an alleged affair of his. I guess we'll have to wait to hear from her outerwear.