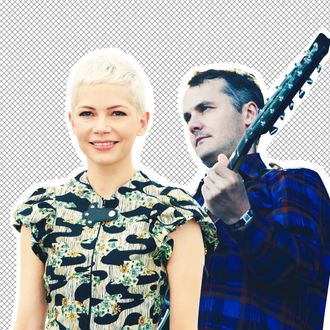 Michelle Williams and Phil Elverum.
Photo: Getty Images
Phil Elverum and Michelle Williams got married earlier this month, in an inconspicuous and private event in the Adirondacks in upstate New York. Williams broke the news in a the August cover story for Vanity Fair, hesitantly sharing the details from her personal life.
"Obviously I've never once in my life talked about a relationship, but Phil isn't anyone else, and that's worth something" Williams explained to the magazine.
Williams's new husband is not a Hollywood star; rather, Elverum, 40, is a critically acclaimed musician from the Pacific Northwest whose work often references the wilderness he grew up in. Here's what you need to know about Michelle Williams's new husband:
He recorded his music under the name The Microphones, and now Mount Eerie.
The Microphones, a pioneering indie band founded by Elverum in 1996, were known for "abrupt rhythm and key changes, sudden piano stabs, and simple, unadorned melody," as well as evocative, stream-of-consciousness lyrics. Shortly after they disbanded in 2002, Elverum started working under the moniker Mount Eerie, under which he continues to make music today. He also started his own record label, P.W. Elverum & Sun, in 2004.
Elverum and Williams are both single parents.
Michelle Williams and Heath Ledger had a daughter, Matilda, in 2005, before his death in 2008. Elverum married his first wife Geneviève Castrée, an artist and musician from Quebec, in 2003. She passed away from cancer in 2015, just 13 months after giving birth to a daughter named Agathe.
Elverum's last two albums — 2017's A Crow Looked at Me and Now Only, which was released this year — grapple with the painful experience of his wife's illness and the pain of living without her in a typically Elverum-ian, lyrical and existential way. (The opening lines of the first song on A Crow Looked at Me are: "Death is real, someone's there and then they're not / And it's not for singing about / It's not for making into art.")
This is the first time Williams has publicly addressed their relationship.
"I don't really want to talk about any of it," she told VF. She described her relationship with her new husband as "very sacred and very special." However, she and Elverum have been tenuously linked together once before: Busy Phillipps, Williams's best friend, Instagrammed a photo of herself and her husband with Elverum at the March for Our Lives earlier this year.
He moved to Brooklyn to be with her.
Elverum grew up in Anacortes, Washington, and he lived there for much of his life. In July 2018, he packed up his belongings and moved with his daughter to Brooklyn to be with Williams.
They're really happy together!
"Ultimately the way he loves me is the way I want to live my life on the whole," she told VF. "I work to be free inside of the moment. I parent to let Matilda feel free to be herself, and I am finally loved by someone who makes me feel free."