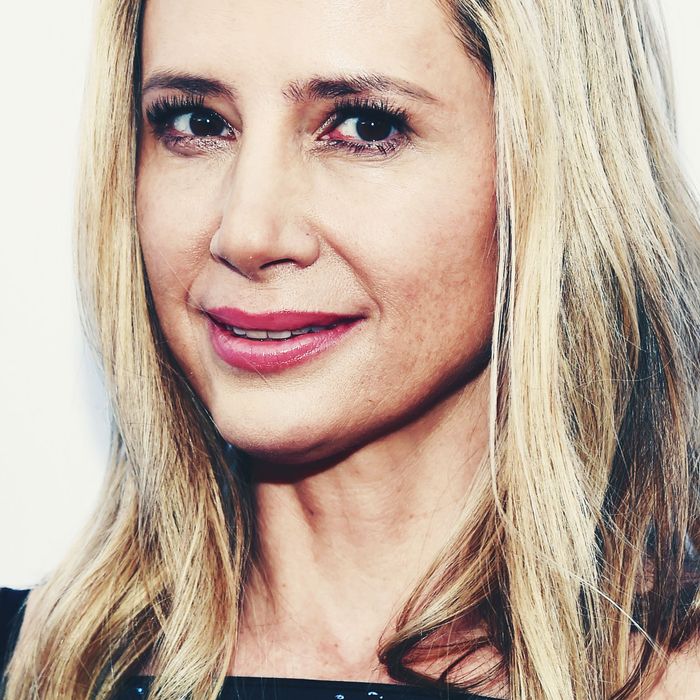 Mira Sorvino.
Photo: Amanda Edwards/WireImage
Mira Sorvino has been vocal about sexual harassment in Hollywood ever since she came forward with a disturbing allegation against Harvey Weinstein in October 2017, which is far from her only experience with an abusive man in the industry. In a new interview with the Hollywood Foreign Press Association's HFPA in Conversation podcast, the Academy Award–winning actress claimed that a casting director once gagged her with a condom, and that she lost a potential role after an Oscar-winning director harassed her.
The disturbing gagging incident Sorvino recounted allegedly occurred when the actress was just 16 years old — it was one of her first experiences with sexual misconduct. According to Fox News, Sorvino was auditioning for a role in a horror movie, for which the casting director wanted to scare her before a scene. So, he tied her to a chair, bruised her arm, and then gagged her with a condom.
"And at the end he takes the gag out of my mouth and he said, 'Sorry for the prophylactic,' so he had gagged me with a condom," Sorvino said. "I was too young to even know, thank god, what a condom tasted like. It was so inappropriate, and what the heck was a casting director doing with a condom in his pocket in an audition?"
At another point during the interview, Sorvino recalled her experience with an Oscar-winning director who she would not name, though she noted that he is "known for his social-justice profile." According to the Wrap, it was during the final round of auditions for one of his films that the unnamed director allegedly told Sorvino, "You know, as I look at you my mind can't help but traveling from the artistic possibilities to the sexual."
Speaking of the exchange, Sorvino said: "In my mind, the thing going on in my head, was, 'Oh, I thought this was a legitimate meeting.' I thought this was an actual, you had me here, because you thought I was talented or that I brought something that would be good for this role."
She continued: "Not that you were were here fishing to see if I was going to have an affair with you. I know for a fact that's why I didn't get that part."