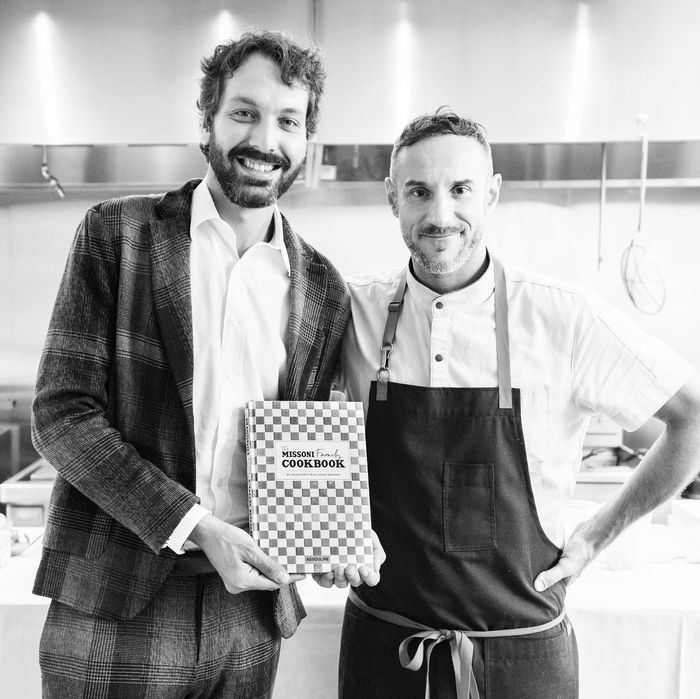 Francesco Maccapani Missoni and Fabio Bano.
Photo: Les Mauvais Garçons
The landscape of Italian cookbooks is vast and delicious. Food Network advocates reach for Giada De Laurentiis's books. Purists go for Essentials of Classic Italian Cooking. But for the fashion set, Missoni's new family cookbook is the best bet. And who better to teach the family's beloved Italian recipes than author Francesco Maccapani Missoni, the grandson of Missoni founders Tai and Rosita Missoni?
He hosted an intimate cooking class last night at the sixth-floor restaurant in Spring Place, a co-working space in TriBeCa that doubles as the premiere Soho venue for New York Fashion Week shows each season. With Spring Place chef Fabio Bano, a fellow Northern Italian, the grandson Missoni taught a dozen guests how to cook three recipes from The Missioni Family Cookbook — a pickled zucchini, coq au vin, and fresh pasta with black truffles — all while wearing a Missoni-logo-printed apron.
Before demonstrating how to properly cook chicken for coq au vin (don't touch it too much!) Missoni said the cookbook, out now from Assouline, is his pride and joy. Everything in it is representative of the family, he told the Cut. "It's like we're inviting you into our home." Because so much of Missoni's aesthetic is about color, throughout the class he offered a few tips for making your food more vibrant, such as: Add saffron to fresh pasta to give it a rich, sunshine-y color. The American egg yolks we usually use to make pasta with flour and water don't have as pretty of an orange color as that of Italian egg yolks, he said, so add the saffron to brighten the noodles.
All of the exquisite homewares photographed with cooked recipes in the book are from his grandmother's vast collection of plates, serving platters, and cutlery. Recipes for gnocchi verde and shrimp scampi are peppered with family photos of the Missonis eating together and cooking in their coastal kitchens while wearing various shades of the brand's signature bright knits. And while few things can be as stylishly satisfying as watching a Missoni prepare Missoni family pasta dishes while wearing Missoni, the book comes close to making you feel like you're dining in one of their their cozy Northern Italy villas. Just make sure to wear a little bit of color.